Marco Pantani murder theory lives on in Italian courts
Italian judge orders a hearing in February to take one final look at the circumstances surrounding the death of former professional Marco Pantani in 2004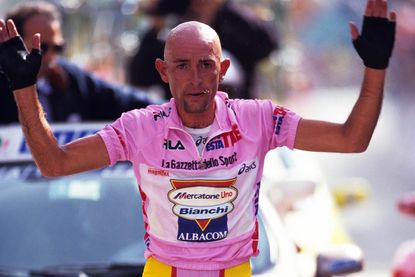 (Image credit: Graham Watson)
The long-running legal case relating the death of former Italian professional cyclist Marco Pantani appears set to continue as a judge has decided to hold a hearing to ascertain whether all possibilities of the cause of death have been explored.
It took Napoleon Bonaparte's arrival and orders to see Milan's famous Duomo completed after hundreds of years, and it may take something just as drastic to end Pantani's murder investigation.
A legal tug-of-war in the seaside town of Rimini continues with Pantani's parents insisting that he was murdered instead of overdosing on cocaine as the original investigation concluded shortly after his death on February 14, 2004.
The case, seeming ready for closure, was kept alive by a judge's decision yesterday to hold a hearing on February 24 to decide if all possible avenues have been explored in their murder theory.
>>> Marco Pantani – The highs and lows
According to La Gazzetta dello Sport newspaper, investigating judge Vinicio Cantarini said yesterday that he wants to determine before closing the case if there are other possibilities leading to Pantani's death.
The Italian from Cesenatico won the 1998 Giro d'Italia and Tour de France before dying on February 14, 2004. Police work at the time showed that the 34-year-old overdosed on cocaine in Rimini's Le Rose hotel.
Pantani last raced in the 2003 Giro, placing 14th. His life was spinning out of control due to drug problems on and off the bike. In 1999, in the Giro's pink jersey and with just two days to race, officials sent him home for a high hematocrit that indicated EPO use. Cocaine, however, pushed him over the edge. In 2003 alone, he overdosed four times.
"There was not evidence to show that Pantani was murdered," Rimini's head prosecutor, Paolo Giovagnoli said in September 2015.
"The results show his death depended solely on his own actions, so as to consider it more likely than not a voluntary suicide death caused accidentally by a voluntary excessive intake of cocaine."
Inside the hotel room where Pantani was found, the door was locked and blocked with furniture. However, his parents insisted over the years that Pantani was murdered by men who entered his room and left before police found him. Their lawyer Antonio De Rensis argued these men beat Pantani and forced him to drink water diluted with lethal amounts of cocaine.
>>> Marco Pantani's death: video of 'careless' police at scene emerges
The case, which is under heavy media scrutiny, appeared ready for closure in September. After months of silence, however, the judge gave Pantani's parents one last chance to prove something other than an overdose.
De Rensis argued yesterday that investigators have not done all they can, such as exhuming Pantani's body, and stated how it is hard to work in Rimini when many of the original police who worked on the overdose case are still in service.
It seems the only thing certain for now, besides a February 24 date in Rimini, is that Italy will argue the cause of Pantani's death for years to come.
Thank you for reading 20 articles this month* Join now for unlimited access
Enjoy your first month for just £1 / $1 / €1
*Read 5 free articles per month without a subscription
Join now for unlimited access
Try first month for just £1 / $1 / €1