Marco Pantani's family continues to pursue claim he was murdered
Lawyer representing Marco Pantani's family gives video evidence, but prosecutor is sceptical that the Giro d'Italia and Tour de France winner was murdered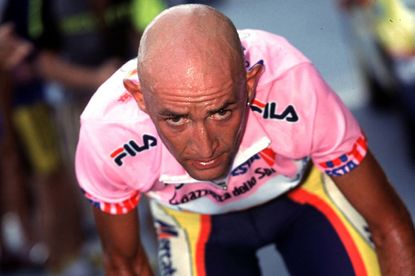 (Image credit: Graham Watson)
Marco Pantani's family lawyer is continuing to pursue the theory that the 1998 Giro d'Italia and Tour de France winner was murdered, despite little evidence to support the claim.
"Currently," Rimini's head prosecutor, Paolo Giovagnoli said on December 4, "there are no elements that would make you consider a murder."
Lawyer for Pantani's parents Paolo and Tonina, Antonio De Rensis pushed for Rimini to re-open the case in July. Based on his theory, the Italian cyclist was murdered instead of dying of a cocaine overdose on February 14, 2004, as originally ruled.
De Rensis theorised that Pantani let men into his Le Rose hotel room. They hit him and forced him to drink water diluted with lethal amounts of cocaine.
After months of work, and media attention, the murder theory seemed to blow away with the cold winds that hit the Rimini coastline this time of the year. Giovagnoli is confirming the 2004 inquiry's findings, that the last cyclist to win both the Giro and Tour in the same year died alone and due to a cocaine problem.
Professor Franco Tagliaro re-examined files from 2004 and according to the ANSA news agency, told Giovagnoli that there had been no aggression. The superficial wounds found likely relate to the climber falling while high on cocaine instead of a struggle or fight.
Pantani last raced in the 2003 Giro, placing 14th, but dealt with drug problems. He overdosed on cocaine four times in 2003.
Pantani's family is persisting with the murder theory with the inquiry still open. ANSA reported today that De Rensis presented police video footage from the Le Rose Hotel. In his analysis, De Rensis questioned the blood stains under Pantani's body and the cocaine ball nearby, which could help his theory someone else was involved in Pantani's death.
Thank you for reading 20 articles this month* Join now for unlimited access
Enjoy your first month for just £1 / $1 / €1
*Read 5 free articles per month without a subscription
Join now for unlimited access
Try first month for just £1 / $1 / €1