Mark Beaumont picks his five best places to cycle in the world
Around the world cyclist Mark Beaumont gives us his five favourite regions to ride through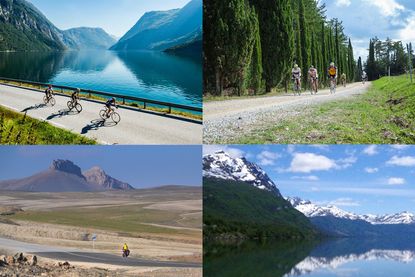 You often see claims that cycling in location X is the best in the world. But the best person to ask would surely be someone who has cycled around the world, like Mark Beaumont. He's currently continuing his bid to cycle around the world in 80 days, sponsored by Wiggle. But over the last ten years, he's pedalled through over 60 countries.
Here are his five choice cycling locations.
West coast of Norway
Beaumont suggests starting at Trondheim and heading north along the fjords. With 24 hour daylight in the summer, you can keep going as long as you want. But pack for any eventuality as the countryside is remote.
Tierra del Fuego
Beaumont says visit in December or January for the scenery of glaciers and surrounding lakes and forests, as well as the fantastic seafood and wine. Just don't head down there from further north in Argentina. There's 2000 miles of pampas grasslands to cycle through, which Beaumont says is some of the most boring cycling in the world. And with a constant headwind.
Iran
Beaumont describes Iran as interesting, beautiful and welcoming, with a rich history. It's mountainous in the north, greener and more rolling in the north-west. Head south and it gets more sparsely populated and dryer, and it's wilder towards the border with Pakistan and Afghanistan. But avoid mid-summer when it's too hot to ride.
Northern Scotland
Some of the quietest in the UK, the roads on the west coast have staggering views across to Skye and the Outer Hebrides. And the Applecross Pass is one of the UK's best climbs.
The Apennines
>>> Seven of the best places to ride in Italy
Beaumont has cycled from Sicily to the Austrian border along the spine of Italy. Although it's hot around Etna, you travel through the Tuscan Hills and the Alps as you head further north. And there's great food and culture along the way. It's around 300 miles further than Land's End to John O'Groats and Beaumont rates it a lot more interesting.
Thank you for reading 20 articles this month* Join now for unlimited access
Enjoy your first month for just £1 / $1 / €1
*Read 5 free articles per month without a subscription
Join now for unlimited access
Try first month for just £1 / $1 / €1