Mark Cavendish non-starter at Three Days of De Panne due to sickness
Updated: Mark Cavendish still suffering from stomach complaint that saw him miss Ghent-Wevelgem on Sunday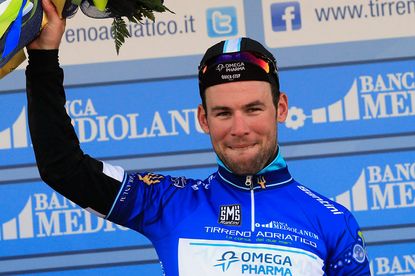 Mark Cavendish had to skip the Three Days of De Panne in Belgium today due to the lingering effects of a fever. Instead, team Omega Pharma's captain travels back home to England to recover.
"He told me that he wanted to race but he couldn't even sit up and had to stay into his bed," sports director Wilfried Peeters told Cycling Weekly. "He decided to stay in bed until noon and then take his car to head back home."
Cavendish fell ill after the Milan-San Remo that took place in rain and cold weather nine days ago. He due to a fever and 18 hours spent in bed Thursday night, he had to call off Ghent-Wevelgem on Sunday.
The Three Days of De Panne, which runs 201 kilometres to Zottegem in Flanders today, marks the second race he has had to skip. The race continues through Thursday and includes two stages that would have suited Cavendish.
The blue, black and white Belgian team now turns its attention to Scheldeprijs next Wednesday. Cavendish already won the Belgian one-day classic three times.
"He needs a couple more days train, we hope he can do that and afterwards we will get an update," Peeters said. "I hope he's ready for Scheldeprijs but at this point he won't be 100%."
Cavendish only has eight more days to recover before Scheldeprijs, the last race in a block. Afterwards, he plans a rest and to return with the Giro d'Italia or Tour of California. The races will lead him towards the Tour de France start in Yorkshire, where Cavendish wants to win the opening stage and the race's yellow jersey.
"It's always a blow to get sick, but he has to focus on getting better," Belgian team-mate Gert Steegmans told Cycling Weekly. "If he's not perfect in Scheldeprijs it's [bad], but he still has to focus on the main goal, to make sure that he's really good in the summer. He shouldn't rush into things just for the Scheldeprijs. He first has to get the sickness out of his body."
Cavendish won twice, in Tirreno-Adriatico and Algarve, so far this season. At this point last year, with his Three Days of De Panne stage win included, he won seven times. [please double-check]
At the Three Days of De Panne last year, Cavendish won the stage to Koksijde. It brought him up to five wins in the stage race. Without him, Omega Pharma will work for these Steegmans, Mark Renshaw and Niki Terpstra.
"[Andy] Fenn, Renshaw and Steegmans came here for him," Peeters said, "but now, we are going to have to change our tactic."
Cavendish is not likely to return to Belgium until one or two days before Scheldeprijs, where Bradley Wiggins races ahead of Paris-Roubaix.
"I'm really disappointed," said Cavendish in a press release. "Sunday I felt better, and I was able to train well, but Sunday night I was sick again and had diarrhoea. I decided to come to the race anyway, hoping that the situation would improve, but I started vomiting and having diarrhoea again last night, at about 2am. I'm in no shape to start, especially because I can't eat or drink anything."
Cavendish raced 25 days this year, compared to 31 last year. His main goal he said in interviews this winter is to be ready for the Tour de France in July.
Manx sprinter still aiming to put himself into Tour de France yellow jersey after Grand Depart in Yorkshire
Omega Pharma-QuickStep confirms that Mark Cavendish will not start Sunday's Ghent-Wevelgem after suffering from fever
Mark Cavendish talks through the finale of Sunday's Milan-San Remo, run in cold temperatures and pouring rain
Thank you for reading 20 articles this month* Join now for unlimited access
Enjoy your first month for just £1 / $1 / €1
*Read 5 free articles per month without a subscription
Join now for unlimited access
Try first month for just £1 / $1 / €1