Mark Cavendish plays down Team Sky speculation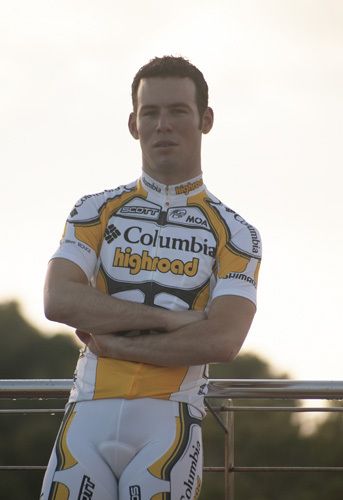 Mark Cavendish has played down any speculation that he would join Team Sky by reiterating that he?s happy in what he considers to be the best squad in the world.
Speaking to Cycling Weekly the 23-year-old said it was not just a matter of being contracted to Columbia-Highroad, but that he was extremely happy in his current team.
Last year Cavendish signed a contract extension with the American-owned team, committing him until the end of the 2010 season and has the option to extend for a further year.
Even before it was confirmed that Team Sky would make its debut in the professional ranks in time for the 2010 season, Cavendish had been linked with the British squad.
And when the team was unveiled last week, Cavendish?s picture was used by many mainstream news organisations to illustrate the story.
The Sun, which is owned by the same News Corporation parent company that holds BSkyB, printed a big picture of the Columbia sprinter, and Sky Sports News ran extended footage of the rider in training.
It served to strengthen the link between the British squad and the best British rider in the world, and The Sun?s report even suggested that top riders would be bought out of their contracts.
Many observers who are not familiar with the intricacies of how cycling works might assume that the British winner of four stages of the Tour de France and a British-sponsored team with hefty financial backing would be an obvious match.
But Cavendish ruled out a move to the team in time for 2010, and said it was not a given that he?d ever ride for Team Sky. ?I?ve had no contact with the team [Team Sky], and I haven?t spoken to Bob [Stapleton] about it either, because there?s no need to.
?It isn?t just the fact that I am under contract, it?s the fact that I am more than happy at Columbia. That?s all I can say about it, really.
?It?s great for British cycling that there?s going to be a team, and perhaps the interest in road cycling from major companies has come partly off the back of my success, but that doesn?t mean I?ll be going there.
?I saw the newspaper reports and the pictures and it was a bit like advertising that Cristiano Ronaldo was going to move to Chelsea. In fact, at this stage, there?s about as much chance of Cristiano Ronaldo joining Chelsea as there is of me leaving Columbia. It?s the best team in the world, and I?m happy where I am.
?As far as I am concerned, it?s just another team, because a lot of teams would be interested in me if I was available. But because I?m British, people will link me. No one can expect me to go somewhere just because of my nationality ? if that was the case, Cristiano Ronaldo would still playing for a Portuguese club.?
Meanwhile, Cavendish will ride the Eroica one-day race in Italy on Saturday. It will be his first taste of the unique event that uses the famous dusty tracks of Tuscany.
>>>Subscribe to Cycling Weekly magazine online for great savings
He will also check out the final 150 kilometres of the Milan-San Remo course with four-time winner Erik Zabel, although he said: ?The finish is the same as last year, so I?m not sure this is my year, but I?ll be going there to give it my best shot and learn as much as possible.?
Before Milan-San Remo (March 21), he will ride Tirreno-Adriatico (March 11-17), although he said stage wins would not be the priority. His next big goal is Ghent-Wevelgem in April.
Team Sky takes off ? Britain's pro team dream is a reality
Cycle Sport feature: How Cycle Sport told you all you needed to know about British pro team before it happened
Scott Sunderland confirmed as Team Sky's team manager
CW spots Sunderland and Brailsford in conversation at the Manchester World Cup
Sky is announced as British Cycling's principal partner
June 2008: How the British team was slowly taking shape