TV presenter Matt Barbet on discovering cycling, and his dream bike
TV's Matt Barbet chats to Cycling Active magazine's Rebecca Charlton about his first bike, mountain biking as a teen and getting into road cycling in a big way in his 30s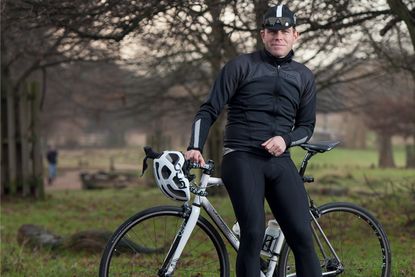 Profile
Name: Matt Barbet
Age: 38
Occupation: Television presenter and journalist
Bikes: Independent Fabrication, Condor and Parlee
Ride to live
"I always cycled as a kid. I grew up in North Wales in a hilly, mountainous area called Cilcain.
"The very first bike I got was when I was about five. It was Christmas Day; there it was, a shiny bike, and the first thing I said was, 'Mummy, does Father Christmas know this is someone else's bike?' My dad had bought it second-hand and done it up, and I realised it wasn't a brand new bike! They still tease me about it now.
"I had a pink and green Peugeot after that. My dad said I would grow into it. I never did; it was massive! I was always out on my bike through my teens and into BMX and mountain biking.
"I came to road cycling quite late. My 20s were lost to university, working hard and partying hard, girlfriends and the rest of it. I hit my 30s and decided to take my health a bit more seriously, and also became a dad. I was in New York for work and I hired a single-speed. That was it. I thought, 'Why haven't I had a bike in London for all this time?'
"I loved just pootling around Manhattan, and inadvertently I'd actually managed to join a mass participation event. They all had numbers on their backs; I didn't. I resolved, as soon as I got back to London, to get a bike.
"I went to Condor, bought an aluminium single-speed and rode it everywhere. Then I got another road bike, and another road bike. So I've got three bikes now. I've got a stainless steel Independent Fabrication, and my pride and joy is a Parlee Z5 SLi which I've just bought some Lightweight wheels for. It's got all the bells and whistles — I have to sneak them into the house and hide them under the bed until I'm ready to unveil them, when my wife says, 'What's that?' and I say, 'What, this old thing?'
"What I really want is a Cipollini in black and gold. That's what I've got my eye on."
The April edition of Cycling Active is on sale on Wednesday February 25
Thank you for reading 5 articles this month* Join now for unlimited access
Enjoy your first month for just £1 / $1 / €1
*Read 5 free articles per month without a subscription
Join now for unlimited access
Try first month for just £1 / $1 / €1