McEWEN GETS KATUSHA'S FIRST WIN DOWN UNDER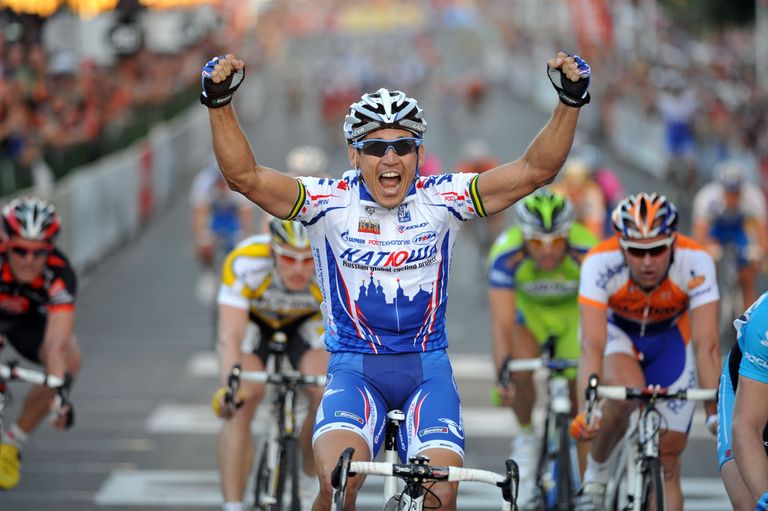 Cancer Council Classic photo gallery, by Graham Watson>>
Robbie McEwen got his new Katusha team off to a fine start with victory in the Cancer Council Classic, the 50km curtain-raiser to the six-day Tour Down Under, which gets underway on Tuesday.
McEwen emerged at the front only in the closing metres of the 50km race, run off at at a rapid 47km/h, to foil what had seemed a well-organised Team Columbia lead-out for last year?s Tour Down Under winner, Andre Greipel.
But Columbia, who amassed 85 victories in 2008, seemed to mis-judge the finish, leaving Greipel to fend for himself in the closing stages. By the line, the German had slipped down to fourth, with Wim Stroetinga, the former track rider in his debut season as a road professional with Milram, in second and another Australian, Graeme Brown of Rabobank, third.
?I said before, if I get one win when I?m down here this week, it will be fantastic,? said McEwen. ?It?s a great start to the year, and I couldn?t be happier. The guys [on the team] did a very good job, considering it's their first race of the season.?
?We got together and worked out a bit of a tactic. I just said to them, ?Listen fellas, there?s no pressure. We?ll do it, and if it works out, great, but if you haven?t got the legs, it?s the first race of the year, there?s plenty to go.??
McEwen revealed that he had welcomed back the man who many in the 138,000 crowd had come to catch a glimpse of: Lance Armstrong."I went and said, ?G?Day? to him somewhere in the first 10 laps of the race, and he was glad to be there. I said, ?welcome back? and he was cruising, just trying to stay out of trouble. He said, ?I?d give you a handshake, but I don?t want to take my hands off the bars... first race back.??
Armstrong, who remained out of trouble before crossing the line in 64th, said: ?That was fast. The last time I did that fast a race was back in the States in about 1990. But it was fun to get back in there. I found it a little safer and easier at the back. In the first fifty or sixty there was a bit of positioning happening.
?I was a little nervous on the corners. Now I can relax a bit ? I had a lot of anxiety before today. It wasn?t my style [of racing], but I enjoyed it.?
The Tour Down Under starts on Tuesday. See Cycling Weekly's 2009 Tour Down Under preview.
CANCER COUNCIL CLASSIC: RESULTS
1. Robbie McEwen (Australia) Katusha in 1-04-32
2. Wim Stroetinga (Netherlands) Milram
3. Graeme Brown (Australia) Rabobank
4. Andre Greipel (Germany) Columbia-High Road
5. Jose Rojas (Spain) Caisse d'Epargne all same time
The media scrum surrounds Lance Armstrong at the race
Lance Armstrong and George Hincapie race against each other for the first time in their careers
The residents of Adelaide turned out in force to watch the Tour Down Under warm-up race
Veteran Aussie sprinter Robbie McEwen opens his - and Katusha's - account for 2009
Photos by Graham Watson
RELATED LINKS
Cancer Council Classic photo gallery, by Graham Watson
Tour Down Under preview
Armstrong in Adelaide... and Astana kit
Armstrong to get 'elite security team' for Tour Down Under
UCI launches World Calendar
Armstrong vs Hincapie at Tour Down Under