Mountain biker urges helmet use after filming fellow rider's headfirst crash (video)
Mountain biker Tim Rowsell filmed another rider crashing hard headfirst and knocking himself unconscious in the Surrey Hills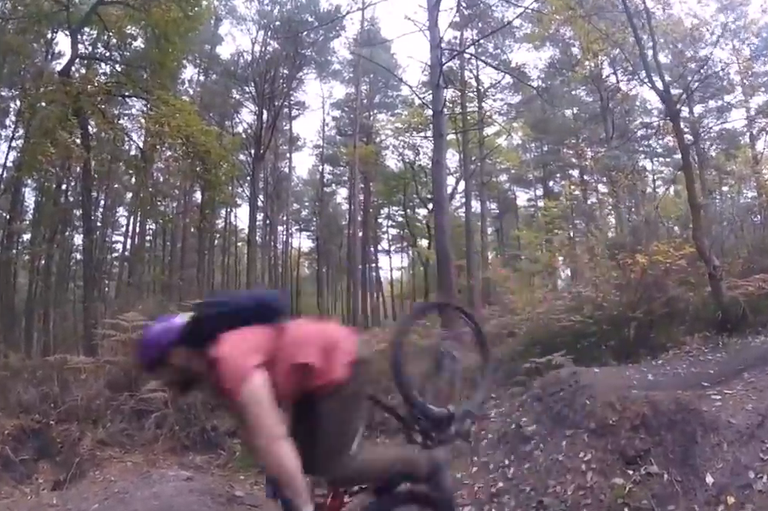 A mountain biker who filmed a fellow rider being knocked unconscious after a head-first crash in the Surrey Hills is urging cyclists to wear helmets, claiming it saved the man from more severe injuries.
Tim Rowsell captured the shocking footage on a GoPro camera and sent it to Eagle Radio to highlight the dangers of riding without a helmet.
The injured cyclist, named only as Andy, landed badly on a jump in the forest, with his front wheel hitting the ground and sending him flying over the handlebars.
>>> Boardman: Helmet debate being used to avoid making real decisions
His face and helmet took the brunt of the impact, but Andy was still knocked unconscious for several minutes as Tim and other riders tried to bring him round.
"If you wear a helmet it can save your life and I genuinely believe that he would have been in a lot worse a state if he hadn't been wearing a helmet at the time," Tim told Eagle Radio.
"He was incredibly lucky and you can see at the end of the video that the helmet took the main impact and really was quite badly damaged.
"It was an old helmet, which he hadn't used for a couple of years, but it did the job."
>>> What can roadies learn from mountain bikers?
In the same story, cycling charity CTC said it did not support calls for mandatory wearing of helmets, saying that the health benefits of cycling outweigh the risks involved, but added that it depended on what type of cycling the rider is doing.