Mugged for a bike: London 'bike-jacking' victim tells of violent incident that saw him punched in the face
London cyclist gives account of a harrowing 'bike-jacking' incident, where three muggers physically assaulted him and took his bike and belongings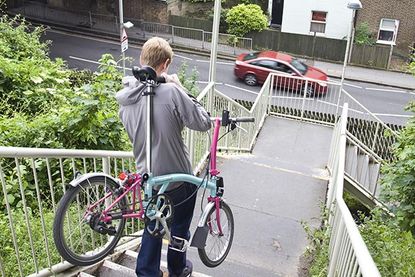 (Image credit: Chris Catchpole)
Bike theft in London continues to be a problem, with recent reports of cyclists being mugged for their bikes in 'bike-jacking' incidents.
On the December 1, Jack, an avid London cyclist was mugged for his bright blue and green Brompton folding bike in Victoria Park, London.
He shares details of the incident in the following interview with Richard Cantle, founder of Stolen Ride.
How long have you been a cyclist in London?
Jack: "Seven or eight months. I moved to Leyton in January, and by April, realised that the Central Line would basically become hell in the summer. Being able to cycle along Regent's Canal and through the Olympic Park were also big draws; it seemed like a nice route to work."
Tell us about the incident
"On Friday, December 1, I was cycling back along Regent's Canal. The canal is closed for a short section where the Stratford branch meets the Mile End branch, so I turned left into the westernmost entrance of Victoria Park. I was only cycling for maybe 10–20 seconds, just enough time to turn onto the path parallel with the canal when I felt a hand on my left shoulder, which pulled me sharply to a halt.
"There were three of them on bikes, all with headscarves on, which would suggest they were waiting for someone to come this way alone. They all had male voices. They took the bike off me and shoved me a bit, shouting for me to give them my bank card.
"Two of them were shoving me and digging through my pockets. The other had his hand in his pocket and was saying 'I will hurt you, yeah', and he would then make to remove his hand from the pocket, as if about to draw a weapon (if he did have a weapon, he never drew it). I gave my phone over to this third guy, saying 'ok, ok, my card is in there'. They then shouted 'what's your PIN number?'.
"Before I answered, one of them punched me in the face. Somewhat stupidly, I gave them my actual PIN, not having the presence of mind to realise they had no way of checking it without going to a cash machine. I was panicked, and just wanted them to leave, preferably without hitting me again.
>>> Bike thief reveals tricks of the trade in this shockingly candid interview
"After I had said the number, two of them cycled off towards the entrance of the park I had just used, one of them on my bike (and holding his previous one, I think. Mine was the only bike with lights, so it was basically all I could see). The third tried to push me to the floor by tripping me on his leg before he also cycled off. I watched them for a bit, swore a few times, and then ran in the opposite direction towards the illuminated path in the middle of the western half of Victoria Park.
"I shouted to the nearest person on that path, saying I had been mugged and asking to use their phone. In this respect, I could not have been more fortunate; the nearest person was a guy called Matthew, whom I later found out, is the lead singer in a band. There was also a woman with a child, who was very kind and talked for a bit.
"Matthew talked reassuringly to me, lent me his phone so I could call my girlfriend (we were planning to get a Chinese take-away round hers and watch Baby Driver) and cancel my bank card. He took me to a nearby pub (The Approach Tavern from looking at google maps, though I have no recollection of its name), bought me a drink and paid for a taxi home for us both, dropping me off along the way. It's wonderful to think that there are such kind people just out and about."
Watch: Five commuting tips
Tell us about the bike - what does it mean to you?
"It's a Brompton M3L (mudguards but no rack) in a wonderfully garish combination of bright cyan and bright green. It had a bag on the front in grey/green (matching green!) which was on my bike at the time, therefore also stolen. It also had lights; the circular ones that are very popular presumably as they're cheap and well-reviewed on Amazon.
"Previously, I had been using a somewhat less good folding bike, which wasn't well suited to the cycle to work. I bought the Brompton on Cycle to Work back in June. I think it would be fair to say I loved this bike to bits. I even gave it a stupid nickname: 'Doodle'."
What has the response been like to the incident?
"The police took my details over the phone, including the location my phone was reporting itself to be at. They say the local borough department will follow it up with me.
"My parents were quite stressed but very supportive. My girlfriend and I had the take-away but didn't watch the film. She was also very stressed but wonderfully kind and caring – she always is. My friends have been great, offering to go to Brick Lane Market with me. Matthew was also incredible, being amazingly thoughtful for a complete stranger."
>>> London bike shops share their cycle theft horror stories
Have you ever had a bike stolen before?
"Unfortunately yes, I had a road bike stolen whilst living in Oxford. It was locked up on Little Clarendon Street – fairly central – with a lock that was far too thin. It didn't last very long: one weekday evening, I noticed it had just gone."
Do you have any advice for fellow cyclists?
"Firstly, this kind of thing is reasonably rare (I think?), so please don't be too scared or give up cycling. But be careful when cycling anywhere with no people living within earshot, particularly if there's no lighting. Avoid these areas if you can. If something does happen to you, call 999 as soon as you can. I didn't realise the official advice is to do this and so I called them a bit later."
Has this changed your attitude towards cycling or cycling in London (or set locations)?
"I definitely will not cycle through Victoria Park at night again and would probably not cycle through other parks with no lighting. I'll still use the canal (lots of riverboats) and Olympic Park (well-lit and reasonably busy)."
Thank you for reading 10 articles this month* Join now for unlimited access
Enjoy your first month for just £1 / $1 / €1
*Read 5 free articles per month without a subscription
Join now for unlimited access
Try first month for just £1 / $1 / €1
Founded in 1891, Cycling Weekly and its team of expert journalists brings cyclists in-depth reviews, extensive coverage of both professional and domestic racing, as well as fitness advice and 'brew a cuppa and put your feet up' features. Cycling Weekly serves its audience across a range of platforms, from good old-fashioned print to online journalism, and video.