Nettie Edmondson's bike crushed by truck on 'wrong side of the road'
Australian track and road rider 'is fine' but will definitely be needing a bike replacement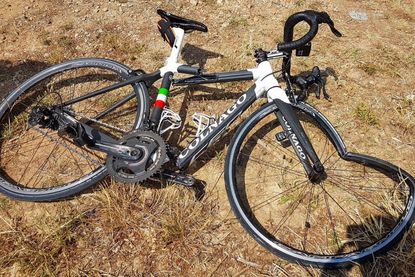 (Image credit: Picasa)
Wiggle-High5 rider Annette Edmondson became the most recent pro rider to be left with a battered bike following an altercation with a vehicle on a training ride just outside Girona.
The Commonwealth Games champion and 2012 Olympic medallist was riding "on a small road near Sant Marti Vell outside of Girona" with ex-pro Lucy Martin when the incident took place.
She observed that "trucks on the wrong side of the road and blind corners don't mix" when sharing a picture of her destroyed Colnago C60 on Instagram.
The frame has been snapped at the top tube, and the front wheel is completely bent. Thankfully, Edmondson reported no injuries following the incident, simply adding #bikeawareness #sharetheroad to her tweet.
The incident takes place just months after British athlete Ciara Horne was knocked from her bike on a training ride, and soon after Chris Froome reported being "rammed on purpose" in May.
It's also the second time in two years the Aussie rider has had a run in at a blind corner - in 2016 she was hospitalised two weeks before the UCI Track Championships where she was due to defend her titles in the omnium and team pursuit.
In that case, Edmondson told local press that she estimated that the car was travelling at around 50km/h before it appeared in front of her on a 'blind corner'.
Thank you for reading 20 articles this month* Join now for unlimited access
Enjoy your first month for just £1 / $1 / €1
*Read 5 free articles per month without a subscription
Join now for unlimited access
Try first month for just £1 / $1 / €1