Nick Clegg pledges to help turn Britain into a cycling nation
In response to British Cycling's #ChooseCycling network's request to commit to cycling, Nick Clegg says he's very keen to implement the recommendations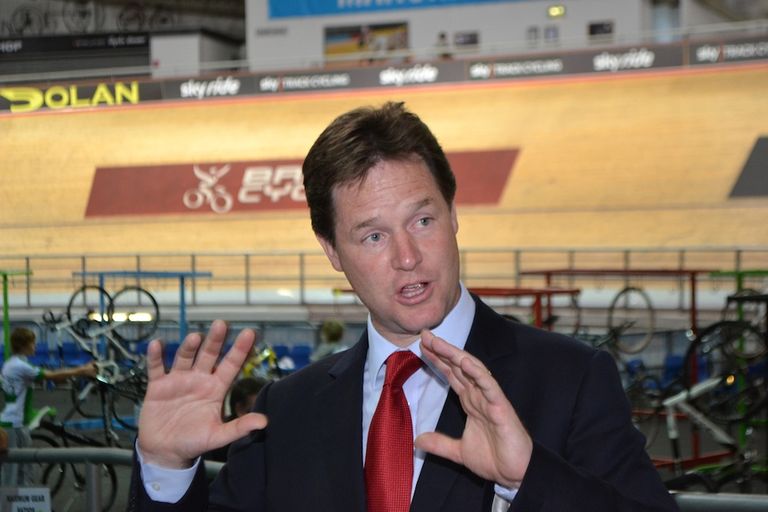 Chris Boardman has praised the Liberal Democrats after its leader Nick Clegg pledged to turn Britain into a cycling nation in response to British Cycling's #ChooseCycling network.
The #ChooseCycling network is a group of major British businesses who are backing cycling for their staff and customers and it asked all party leaders to make commitments to cycling in their manifestos.
The network asked parties to allocate five per cent of Britain's transport budget to cycling and set a target for cycling to account for 10 per cent of all trips.
>>> Boardman: Cycling pledges show Tories have failed to listen
"The Liberal Democrats are the only party to nail their colours to the mast and pledge to implement everything the network is asking for," said Boardman, British Cycling's policy advisor after Clegg confirmed he is 'very keen' to implement the recommendations.
"It's encouraging to hear that Nick Clegg is passionate about Britain becoming a cycling nation to rival our European neighbours.
>>> Cyclists most likely to vote Liberal Democrats, according to research
"The difference is that he is actually bold enough to put some numbers and targets against this aim with measures that could have a colossal impact on how people get around.
"If the Liberal Democrats form part of a new coalition we will certainly be pressing them to ensure that these ambitions form a central part of the government's transport strategy."