No Wiggins for National Championship road race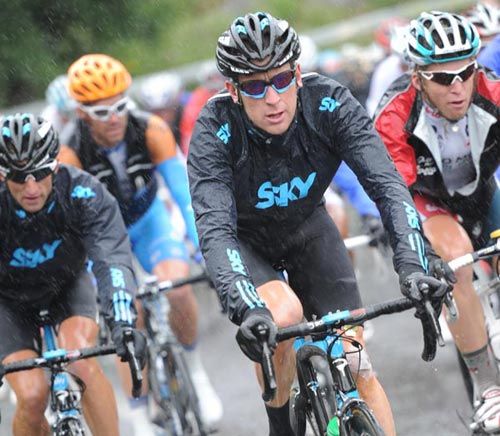 Team Sky's Rod Ellingworth has confirmed Bradley Wiggins will not ride the road race at the National Championships at the end of the month - contrary to previous reports.
Last week, two sources had told CW that Wiggins, the Team Sky leader, would take part in the championship race in Lancashire on Sunday, June 27.
Then, on Tuesday, the organisers published the start list on its website - with Wiggins the biggest name absent.
Team Sky told CW Wiggins would not ride. However, by the evening, Wiggins had been added to the list.
On Wednesday morning, Ellingworth cleared up the confusion over the issue of whether Wiggins would ride saying "100 per cent not".
However, Mark Cavendish (HTC-Columbia), former champion David Millar (Garmin-Transitions), three Cervélo riders and seven from Team Sky have entered and are expected to be on the start line.
Wiggins will not race again until the Tour de France starts in Rotterdam on July 3. Wiggins heads to France next week with Team Sky's race coach Rod Ellingworth to check out the important climbs of the Alps and the Pyrenees, plus the course for the final time trial in Bordeaux.
However, seven Team Sky riders have entered the Nationals, although Ben Swift and Chris Froome have both been struggling with injuries at the moment and will not race unless they are completely fit.
Kristian House, the defending champion, leads a strong Rapha Condor Sharp team and there are also large squads for the other domestic teams, such as Endura Racing, Sigma Sport Specialized, Motorpoint and Team Raleigh. A full-strength Team 100% ME - the British Cycling Academy team - will also take part.
Cavendish, Adam Blythe, Daniel Lloyd, Jeremy Hunt, Roger Hammond and Millar have all entered. And Jonny Bellis will make his comeback after an horrific scooter crash last year. Although he isn't expecting to finish the race, just being back on his bike will be a huge step on the road to recovery.
Charly Wegelius, Blythe's team-mate at the Belgian Omega Pharma-Lotto team, has not entered.
The 180-kilometre race takes place over 15 laps of a tough 7.5-mile circuit in the village of Barley near Nelson.
The women's start list will be added as it is confirmed but all the big names are expected to be present. Nicole Cooke is aiming for her 11th title - her 10th in a row - but Emma Pooley will also fancy her chances on the hilly course.
MEN'S ROAD RACE - START LIST
Sunday, June 27
Starts: 12.30pm
Riders in italics are eligible for under-23 title
Rapha Condor Sharp
Kristian House, Matt Cronshaw, Ben Greenwood, Jonathan Tiernan-Locke, Dean Downing, Tom Southam, Graham Briggs, Chris Newton
Team Sky
Ben Swift, Russell Downing, Chris Froome, Geraint Thomas, Ian Stannard, Steve Cummings, Peter Kennaugh, Bradley Wiggins (added on Tuesday, June 8, participation TBC)
Omega Pharma
Adam Blythe
Cervelo
Daniel Lloyd, Jeremy Hunt, Roger Hammond
HTC-Columbia
Mark Cavendish
Garmin-Transitions
David Millar
Saxo Bank
Jonathan Bellis
Endura Racing
James Moss, Callum Wilkinson, Rob Partridge, Rob Hayles, Ian Wilkinson, Sandy King, Gary Hand, James McCallum, Evan Oliphant, David Lines, Scott Thwaites, Ross Creber
Motorpoint-Marshalls Pasta
James Sampson, Johnny McEvoy, Lee Davis, Ian Bibby, Steven Burke, Ed Clancy, Malcolm Elliott, Andrew Tennant, Peter Williams
Pendragon-Le Col-Colnago
Kieran Frend, Rhys Lloyd, Chris Opie, Jack Adams, David Clarke, Yanto Barker, Steven Lampier
Raleigh
Daniel Shand, Mike Cuming, Richard Handley, Dan Fleeman, Dale Appleby, Tom Barras, James Stewart, Liam Holohan
Sigma Sport-Specialized
Matthew Stephens, Simon Richardson, Kit Gilham, James Williamson, Gareth Montgomerie, Tom Murray, Tom Last, Stephen Adams, Phil Sykes
Team 100% ME
Luke Rowe, Mark Christian, Andrew Fenn, Erick Rowsell, George Atkins, Timothy Kennaugh, Christopher Whorrall, Jonathan Mould, Joseph Perrett
Orbea-For Goodness Shakes
Dean Shannon, Kristian Downs, Matt Ewings, Dan Kogan, Andy Lyons, Ben Thompson, Marcel Six, Adam Norris
Team Corley Cycles
Mark Wordsworth, Matthew Higgins, Ashley Cox, Richard Gartland, Simon Gaywood, Chris Mcnamara
Team Qoroz
Hugh Wilson, Matt Ullmer, Ben Stockdale
Team Zappi's
Mike Wragg, Will Fox, Joe Skipper, Jack Kirk
Frezza Pasta Montegrappa
David McLean, Gareth Hewitt, Peter-Lee Jefferies
Finchley RT
Vince Divine, Andrew Hastings
GWR Team
Llewellyn Kinch, Douglas Dewey
Herbalife-Wheelbase
Jack Pullar, Dillon Byrne
VC Montpellier
Lewis Cowley, Russel Falder
AW Cycles
Sam Allen
An Post
Mark McNally
ASFRA Flanders
Simon Thomas
BCV
Paul Esposti
Bicicletas Salchi-Mutienvios
Oliver Cookson
Big Maggies-Wilier-Prendas
Will Bjergfelt
Cyclingbargains.com-Infinis RT
Robert Orr
Flanders Racing
Daniel Patten
Giant Asia
Alex Coutts
Hope Factory Racing
Paul Oldham
Mid Devon CC
Joshua Hunt
New Heebra Lombarden
Andrew Griffiths
Palmeiras Resort
Tomas Swift-Metcalfe
Team Echelon-Spuik
Steven Dring
Team Goldtec
Martin Ford
Teamwallis CHH
Andy Coupe
Trek Livestrong
Alex Dowsett
UC Bergamasca-Di Nardi-Colpack
Simon Holt
Van Goethem-Prorace
Hamish Haynes
Wielerteam Van Eyck
Dominic Schils
York Cycleworks
Alistair Kay
WOMEN'S ROAD RACE - START LIST
Sunday, June 27
Starts: 8.30am
nicolecooke.com
Nicole Cooke
Cervélo
Lizzie Armitstead, Emma Pooley, Sharon Laws
Horizon Fitness
Danielle King, Sarah Storey, Annabel Simpson, Hannah Rich, Alex Greenfield
Team 100% ME
Lucy Martin, Katie Colclough
Rapha Condor
Claire Beaumont, Tracy Corbett, Rebecca Curley, Katie Fearnehough, Angharad Mason, Natasha Perry, Rachel Przbylski, Catherine Williamson
Halesowen A & CC
Ciara Horne, Jessica Booth, Ella Hopkins
Team Zappi's
Tamina Oliver, Claire Galloway, Naomi Anderson
Maxgear RT
Jackie Garner, Alli Holland, Louise Eden
Squadra Donne Bike Food
Iona Sewell, Gail Aspden
Moving Ladies
Emma Trott, Sarah Reynolds
Sandy Wallace Cycles
Mari Todd, Anda-Jay Burgess
Limpet Technology
Eileen Rowe, Kate Cullen
AW Cycles
Emma Grant
Avergavenny RC
Lowri Bunn
AVB
Nikki Harris
Bizhab-Konica Minolta
Catherine Williamson
Ciclos Uno
Nicola Juniper
CT M. Pinte
Charlotte Colclough
Dalbeattie Hardrock CC
Lucy Coldwell
Dysynni CC
Kara Chesworth
Edinburgh RC
Anne Ewing
Ferryhill Wheelers
Mathilde Matthysse
HA+CC
Eleanor Jones
High Wycombe CC
Chrissy Radon
Johnstone Wheelers
Claire MacAulay
Kona FSA Factory Team
Helen Wyman
Motorpoint-Marshalls Pasta
Sarah Byrne
BC private members
Joanna Rowsell
Julia Shaw
Michelle Dillon
Claire Thomas
Teri Wishart
Redsun Ladies Team
Emma Silversides
Sigma Sport
Leona Kadir
Sprinters Malderen
Alice Monger-Godfrey
Stirling BC
Jane Barr
Team Corridori
Corrine Hall
Twickenham CC
Natalie Creswick
Vanillabikes.com
Leanne Thompson
RELATED LINKS
British road race champions: Roll of honour
2009 men's road race: Kristian House wins in Abergavenny
2009 women's road race: Nicole Cooke takes her 10th title
EXTERNAL LINK