It's not just Peter Sagan who has his own stamp - Pete Kennaugh does too
A range of stamps from the Isle of Man include Pete Kennaugh riding to victory in the London 2012 team pursuit final.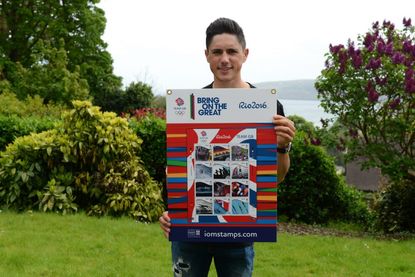 (Image credit: Michael Weir)
By Thomas Parker
In what is a battle of the Postal Peters, if the Peter Sagan postage stamps didn't float your boat, then maybe Isle of Man's stamps depicting Pete Kennaugh will.
As the 2016 Rio Olympic Games comes ever closer, the Isle of Man Post Office have unveiled a new range of stamps, commemorating the 2012 Olympic Games sporting achievements - including one of the GB gold medal winning team pursuit squad, featuring Kennaugh.
Kennaugh, of course, is not the only cyclist to be the subject of this bizarre honouring fad, as the Slovakian post office unveiled stamps in April in honour of Sagan's world championship triumph last September.
300,000 stamps were made to celebrate the Slovak's achievement of becoming the young nation's first ever road racing world champion, and cementing his place as both as Slovakia's greatest bike rider and one of the country's greatest ever athletes.
You can buy the Great Britain stamps at the Isle of Man Post Office and their website for £1.27. And for all you stamp collecting, cycle loving folk, you can get hold of a special, limited edition Sir Chris Hoy Rio 2016 Olympic Games Envelope, which is released on June 16, at the price of £39.99.
We're off to add to our stamp collection...
Thank you for reading 20 articles this month* Join now for unlimited access
Enjoy your first month for just £1 / $1 / €1
*Read 5 free articles per month without a subscription
Join now for unlimited access
Try first month for just £1 / $1 / €1