Peter Sagan shows off some unconventional cycling skills (video)
The world champion shows off his latest trick while out on a training ride. Plus, read on for more of the best videos from around the internet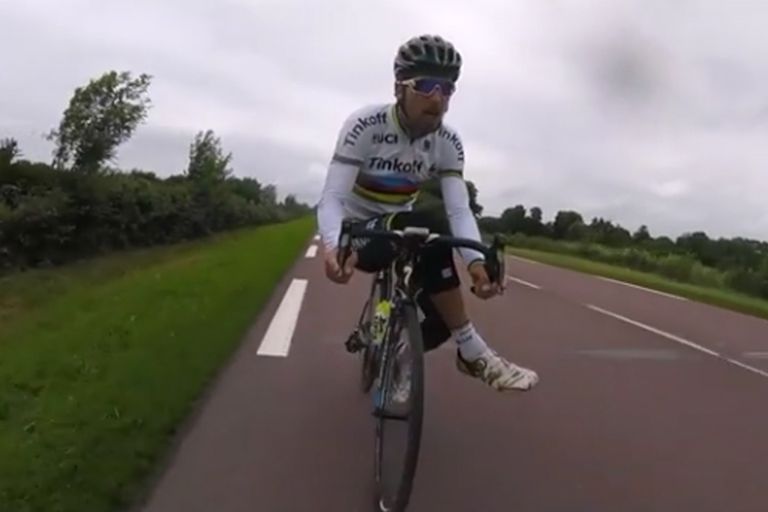 (Image credit: Instagram/Peter Sagan)
The Cycling Weekly tech team run through the products that they're most excited about testing over the coming weeks.
This dash-cam footage from a vehicle that was not involved in the incident shows the kind of scenario those of us who ride regularly come to fear.
Try a different cycling snack
If you're looking for a bit of variety when it comes to on the bike nutrition, especially for those long winter miles, these bacon and egg rice cakes could be just the ticket.
The world champion took some time out of his winter training to show off his side-saddle riding while out on a ride earlier this week.
In contract with the soon-to-be defunct Tinkoff team, they're still supporting him as can be seen from the presence of the team car behind him.
https://www.youtube.com/watch?v=qBbtxcZ1OH8&feature=youtu.be
Keagan Girdlestone, a young Dimension Data development rider, has returned to cycling after a crash that left his with life threatening injuries.
Riding up to a fairly benign looking suburban roundabout in South London, and riding in the primary position, the cyclist should not reasonably expect this to be the outcome.
The driver involved stops their vehicle, but it is not clear from the footage to what extent the cyclist has been injured. The rider is conscious and able to sit up, but the psychological impact could be much greater.
Young rider's return shows the joy of cycling
November's best cycling tech
These include the Gore One Active jacket and the new Scott cyclocross bike, plus a pair of wheels that will suit winter riding.
Something we all fear
Easy to make and high in energy, these are worth considering before embarking on a wintry century ride.
By his own admission, Girdlestone may never have got back on a bike and even said "I should be dead" when speaking at an earlier stage of his recovery.
The very activity that the 19-year-old was doing when he nearly died is also the thing he's most happy about being able to do again.
Peter Sagan is well known for his bike handling skills, and clearly loves riding his bike.
Training ahead of his switch to Bora-Hansgrohe for the 2017, Sagan will likely take the start line as the favourite in the cobbled Classics and early Monument races.
The smile on his face, along with his running commentary on the ride make you appreciate just how great cycling is.
https://www.youtube.com/watch?v=DjntRkQnSCI&feature=youtu.be