How to make bacon and egg rice cakes: a great cycling snack (video)
Perfect for an early morning ride, these breakfast themed rice cakes will help satisfy those cravings out on the bike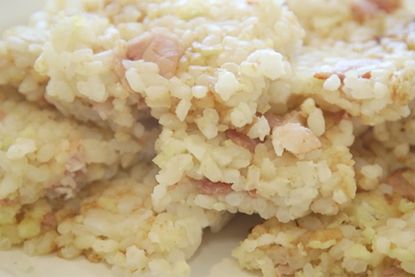 Sacrificing energy stores during a morning ride because of the unsatisfying taste or texture of a product is not a wise move.
Despite perhaps not being the most appetising experiences during the early hours of the day, there are alternative ways to maintain your fuel stores.
>>> How to make Veggie Rice Balls: a perfect on-bike snack (video)
These rice cakes are the perfect choice if you are looking for a traditional morning taste without sacrificing quality or accessibility to a good source of carbohydrates.
Ingredients
(Makes nine)
200g white rice (jasmine, calrose or any sushi variety)
375ml water
4 rashers of bacon
2 eggs
1 tablespoon soy sauce
Pinch of salt
Pepper to taste
Method
1. Combine rice, water and salt in a large saucepan (or rice cooker).
2. Cover then heat until water boils.
3. Turn to lowest heat and cook for 15 minutes.
4. Turn off heat and leave covered for 10 minutes.
5. While rice is cooking, slice up bacon into small squares, fry until crisp and leave to drain on kitchen paper.
6. Scramble eggs in small non-stick pan.
7. When rice is cooked, stir in bacon, eggs, soy sauce and seasoning.
8. Transfer mixture to a lined nine inch baking pan and pat down firmly with rice paddle/spatula.
9. Leave to cool for 30 minutes, cut into squares and refrigerate.
Nutrition breakdown
125 kcalories
18g carbohydrates
4.5g protein
4g fat
Thank you for reading 10 articles this month* Join now for unlimited access
Enjoy your first month for just £1 / $1 / €1
*Read 5 free articles per month without a subscription
Join now for unlimited access
Try first month for just £1 / $1 / €1
Paul Knott is a fitness and features writer, who has also presented Cycling Weekly videos as well as contributing to the print magazine as well as online articles. In 2020 he published his first book, The Official Tour de France Road Cycling Training Guide (Welbeck), a guide designed to help readers improve their cycling performance via cherrypicking from the strategies adopted by the pros.