Plans to end one-way traffic systems provides cheer for Future Cycling Cities conference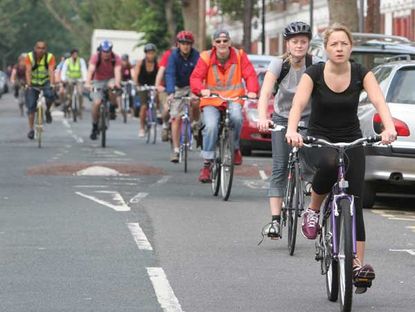 Is this a cyclists' dream come true; the latest trend in traffic planning - scrap one-way systems? t will surely be welcomed at this Saturday's CTC conference in Portsmouth "Future Cycling Cities (see below).
London is set to return at least four one-way systems to two-way, reported the London Evening Standard last week, three of them in the central zone, Tottenham Court Road, Piccadilly, St James's Street and Trafalgar Square.
Transport for London, who clearly have the launch of their Hire Bike System in July in mind, say they want to make the streets safer for pedestrians and cyclists, as well as motorists.
Head of the New London Architecture Centre, Peter Murray, said one-way streets reflect the dominance of the car and the failed go-faster policies of the traffic engineers.
The switch from one-way to two-way is not confined the London. Other cities considering this include Dublin. However, several USA cities have already done so, including Oklahoma City.
The change will be welcomed by delegates attending the Spring Conference "Future Cycling Cities" hosted by Portsmouth Cycle Forum on behalf of the CTC, the national cyclists' organisation, in Portsmouth, this Saturday (April 17).
Locating the conference in Portsmouth is a thank you to the city for being the first in the UK to adopt a 20mph speed limit across much of its roads network.
Speakers will include Graham Smith, on the pros and cons of shared space; Simon Moon and Cllr Lynne Stagg on Portsmouth's 20mph speed limit, Cllr Ian Hudspeth talking about Oxford's plans to do same. Also on the platform will be Marc Clothier from Sussex Police talking about 'Operation Crackdown' and 'Does the law adequately protect cyclists?'.
CTC Campaigns and Policy Manager Roger Geffen said: "With an election around the corner, now is a crucial time for local and national campaigners to make sure cycling plays a key role in future government policy and the next round of local transport plans."
"This year's spring conference, focusing on how to put cycling at the heart of town and city life, is an invaluable opportunity to build and share campaigning knowledge and expertise."
Cyclenation's Andre Curtis said: "We are very pleased that our group in Portsmouth is able to host this spring's conference. The main topics covered this year are very relevant to increasing everyday cycling. The speakers will, I am sure, help inspire campaigners and professionals alike, in particular to follow Portsmouth's lead with 20 mph."
The conference will be at the University of Portsmouth on Saturday 17 April from 10.30am to 4pm. Tickets are £20 and registration is available online at www.pompeybug.co.uk/conference.
There will also be social rides and events from Friday 16 April through to Sunday 18 April.
Thank you for reading 20 articles this month* Join now for unlimited access
Enjoy your first month for just £1 / $1 / €1
*Read 5 free articles per month without a subscription
Join now for unlimited access
Try first month for just £1 / $1 / €1