Plowman Craven-Madison: Team survives but faces changes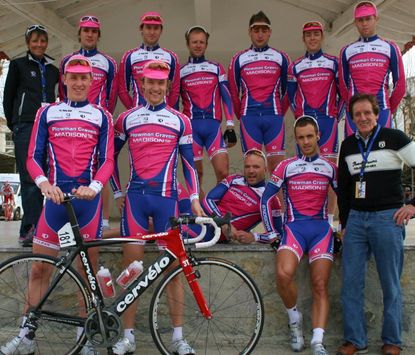 Rumours of the Plowman Craven-Madison.co.uk team?s demise have been exaggerated. The team goes on, although it will undergo a name change ? perhaps as early as tonight?s Tour Series race in Woking ? relinquish its UCI Continental status and looks set to lose riders.
The team is set to be renamed Madison.co.uk, and the loss of the costly UCI Continental status means the squad will be ineligible for the Tour of Britain, unless an exception to the rules can be negotiated.
And as many as four riders could be in the process of leaving, although the team?s owner Simon Barnes remained committed to the survival of the team. One of those strongly rumoured to be on the move is Evan Oliphant.
The riders have not been paid of late, but Mr Barnes said they would get the money they're owed as soon as it was possible.
Mr Barnes said it was a case of ?hunker down, batten down the hatches and weather the storm? created by the difficult economic conditions rather than fold the team completely.
The plan had been for Plowman Craven?s financial involvement in the team to be smaller this year. Madison.co.uk came on board and it had hoped that a new four-year deal with a major company would be in place this spring to take the title sponsorship.
Meanwhile, Plowman Craven Associates folded early in the year, and the other Plowman Craven companies have been bought by a venture capitalist. The surveying company has been hit particularly hard by the economic downturn in the property and construction industries, and although things look brighter since being bought out, there is not the marketing budget to plug the gap left now the potential backer has pulled out.
Riders have not been paid, but Mr Barnes said they would get the money they were owed.
Mr Barnes said: ?Plowman Craven has been backing the team for a number of years but it was always the intention that, financially, it would take a step back this year.
?We applied for UCI Continental status so we could ride the Tour of Britain, but it has turned out to be costly and not all that worthwhile.
?Plowman Craven hasn?t been affected as much as some, but it has been hit pretty hard by the credit crunch because it deals with two of the sectors most affected. Now that the company has been bought out, it?s in a pretty good position.?
?We were in advanced negotiations with a big company, but then they had redundancies and a serious reduction in marketing budget. We were relying on getting that money.?
Plowman Craven is not currently in a position to cover the shortfall. Riders had their wages delayed, but Mr Barnes?s priority was to keep the team going.
?I?m still supporting the team personally up to a certain level, and Madison.co.uk and Pearl Izumi are still on board,? he said. ?We will search for a new backer. There are a number of companies who are interested, but they?re not in a position to write cheques at the moment.
?The riders have been told they will get their shortfall. I?m not about to fold the team and walk away, partly because morally it?s not right and partly because of my love of the sport. I?d rather tough it out at a reduced level now and still have a team, rather than fold and lose it.?
Mr Barnes admitted some riders would leave the team, but said it was amicable.
And he confirmed that the team?s new name would be Madison.co.uk, perhaps starting as early as tonight?s Tour Series race in Woking.
?The problem is, we wanted to ride the Tour of Britain, but the UCI changed the rules last October, so we had to have Continental status in order to be eligible,? he added. ?I feel it?s asking too much. If, for example, a British telecommunications company were interested in the team, the Tour of Britain would be very important because it?s good TV time. But in effect, you?re paying a lot of money for just one race.?
So far this season, Plowman Craven have ridden the Tour of Majorca, and have won the opening round of the National Circuit Race series at Hillingdon, thanks to Jeroen Janssen.
Thank you for reading 10 articles this month* Join now for unlimited access
Enjoy your first month for just £1 / $1 / €1
*Read 5 free articles per month without a subscription
Join now for unlimited access
Try first month for just £1 / $1 / €1
Sports journalist Lionel Birnie has written professionally for Sunday Times, Procycling and of course Cycling Weekly. He is also an author, publisher, and co-founder of The Cycling Podcast. His first experience covering the Tour de France came in 1999, and he has presented The Cycling Podcast with Richard Moore and Daniel Friebe since 2013. He founded Peloton Publishing in 2010 and has ghostwritten and published the autobiography of Sean Kelly, as well as a number of other sports icons.