Police advise removing parts when locking up bikes, to deter thieves
Cambridgeshire Police release a list of advice for cyclists to prevent bike thefts, including taking all removeable parts with them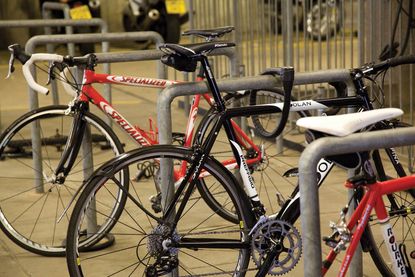 Police in Cambridgeshire urge cyclists to take removeable parts of their bike with them when they lock them up around the county, to deter so-called 'bike cannibals'.
The police have issued a list of advice for cyclists who are locking their bikes up in public places, including using a variety of locks and avoiding parking your bike in the same place on a regular basis.
>>>Police warn cyclists of thieves using GPS apps to steal bikes
Sam Jones, campaigns coordinator at cycing charity CTC, told the Peterborough Telegraph that the need to dismantle your bike when you lock it up is likely to deter people from cycling, rather than encourage it.
"For many the risk of theft can be enough to put people off making short cycling journeys, such as to work or the shops," he said.
"Secure bike parking is particularly important. This saves cyclists from the added burden of having to remove vital bike bits such as the saddle or handlebars every time they leave their wheels for a long period of time."
The police advise cyclists to:
Pull the lock tight so it is tightly secured around the bike and hard to move around.
Always use two different locks. A "D" type lock and heavy duty chain are best. Look for 'Sold Secure' approved locks.
Lock your bike in a well-lit public area with other bikes if possible.
Where possible do not leave you bike for prolonged periods of time unattended.
Where possible avoid locking your bike in the same place on a regular basis.
Where possible take all removable and quick release parts with you.
>>> Cyclist 'devastated' after thieves steal bikes worth £7,500
Matthew Barber of sustainable transport charity Sustrans added: "I think the advice is sensible and I would echo what is said. There are always going to be opportunistic people out there who will go for bikes that are poorly locked.
"I will always use two types of lock. It only takes about 30 seconds to do it. All the police can try and do is educate people to the best of their ability."
Thank you for reading 20 articles this month* Join now for unlimited access
Enjoy your first month for just £1 / $1 / €1
*Read 5 free articles per month without a subscription
Join now for unlimited access
Try first month for just £1 / $1 / €1