Man spotted cycling on M57 hard shoulder at Friday morning rush hour
North West Motorway Police were called to reports of a man cycling on the hard shoulder of the M57 near junction 7 at around 7:30am on Friday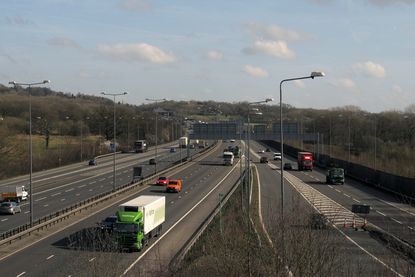 Just one week after a foolhardy cyclist was fined for riding along the hard shoulder of the M25, en route to Heathrow, another dangerously busy motorway has seen a man on a bike taking an ill-advised shortcut.
North West Motorway Police were called to reports of a man cycling on the hard shoulder close to junction 7 of the M57 during Friday morning rush hour, just after 7:30am.
The man was spotted by motorists near Switch Island, about eight miles north of Liverpool city centre, cycling in the direction of St Helens and motorway signs were updated to carry warnings to motorists about the cyclist on the road.
Police arrived at the scene shortly afterwards, but were unable to find any sign of the cyclist.
Cycling on any motorway in Britain is prohibited, including on hard shoulders or on the edge of the motorway.
But this is by no means an isolated incident, with reports of people riding bikes on British motorways a relatively common occurrence, despite the considerable danger.
In March this year, a man was found cycling along the hard shoulder of the M8 near Glasgow at a similar time on a Tuesday morning.
In June 2014 a man was arrested by police after he was found riding on the M25.
Three months earlier a cyclist was removed from the M3 motorway in Surrey after his satellite navigation app had sent him there.
Thank you for reading 20 articles this month* Join now for unlimited access
Enjoy your first month for just £1 / $1 / €1
*Read 5 free articles per month without a subscription
Join now for unlimited access
Try first month for just £1 / $1 / €1