Police officer chases down thief on the bike he was trying to steal
A 17-year-old was attempting to steal two bikes outside the police enquiry counter in Manchester city centre when the chase began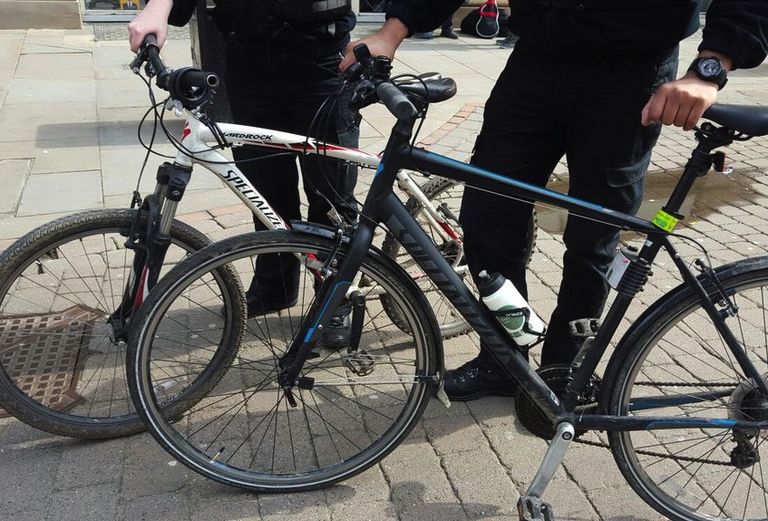 A thief attempting to steal two bikes in Manchester city centre saw his attempts to get away from police come unstuck, as he was chased down by an officer on the very bike he was trying to steal.
>>> 'I'm disappointed how reluctant the police are to use the law against badly behaved drivers'
The 17-year-old was trying to cut through the lock on a £500 Specialized mountain bike on Monday afternoon before being spotted by police, as male youth was attempting to steal it right outside the police enquiry counter in Mount Street in the city.
An officer then jumped into action and ran after the youth, who was riding one stolen bike while pushing the Specialized alongside it.
The officer then managed to grab the bike and chase the culprit across the city to Great Ancoats street over a mile away, where he was eventually apprehended.
>>> Bike locks: a buyer's guide
Gareth Parkin city centre chief inspector praised the incidents as "a great use of initiative and pro-active policing," according to Manchester Evening News.
Greater Manchester Police tweeted about the incident, saying the male had been caught and charged with the theft of the two bikes.
The police also said that the youth had attempted to blame the owner of the bikes for the theft, saying: "Tell him to get a better lock. Get a chain. It was his own fault."
Richard began working with Cycling Weekly in 2013 alongside the then web editor, Nigel Wynn. Taking over as digital editor or Cycling Weekly and mbr in 2014, Richard coordinates site content and strategy with the team.