Prison sentence for sleeping driver after horrific crash which sent cyclist somersaulting into air (video)
Warning: Video contains images that some readers may find disturbing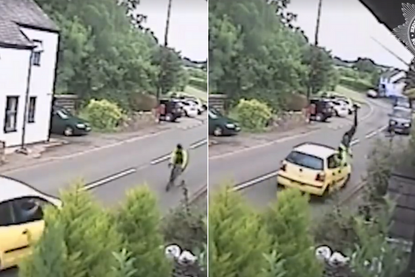 https://www.facebook.com/NWPRPU/videos/962959793877690/
A driver who admitted falling asleep at the wheel and crashing into a cyclist has been sentenced to 12 months in prison.
Jake David Tompkinson, from Rowen in Conwy, admitted causing serious injury by dangerous driving in the crash which left cycling Gareth Evans with numerous injuries including a punctured and bruised lung, four broken ribs, a broken eye socket and collarbone, and two broken toes.
Despite the crash occurring in June 2017, Mr Evans still suffers from post-traumatic amnesia, has lost his sense of smell and taste, and is unable to continue his work as a builder for the foreseeable future.
>>> Motorist drives 60 metres with cyclist on bonnet before crashing into garden
Video of the footage has been shared on Facebook by North Wales Police, and shows Mr Tompkinson, driving a yellow Volkswagen, drifting across the road as he falls asleep.
Mr Evans is cycling in the opposite direction and is unable to take avoiding action, being thrown up in the air and landing on the pavement.
The Daily Post reports that Mr Tompkinson, a mountain leader who had just finished leading an overnight trek, stopped at the scene to help administer first aid to Mr Evans, and quickly admitted that he was at fault for the crash.
Alistair Macdonald QC, defending, told Caernarfon Crown Court that the crash was a result of a "momentary lapse into sleep", with Mr Tomkinson having already stopped twice on the journey and known that he was tired.
Passing his sentence on Tuesday, Judge David Hale described Mr Tomkinson as "a thoroughly decent young man, a person who has made a substantial contribution to society. As a result of a misjudgement he's lost his good character."
As well as being sentenced to 12-months in prison, Mr Tomkinson was also banned from driving for two-and-a-half years and must take an extended retest.
>>> 'What's the point in sending him to prison?': Motorish who admitted killing cyclist spared jail by judge
Investigating Officer PC Einion Huws of North Wales Police said that he hoped the sentence would send out a clear message to other drivers who might be tempted to get behind the wheel while tired.
"The manner of Tompkinson's driving was reckless and irresponsible and it is only by pure luck that we did not investigate this as a fatal collision," PC Huws said.
"This collision was entirely preventable and shows what the consequences can be when drivers are not concentrating when behind the wheel whilst tired, and I would urge all motorists to adhere to the warning that tiredness can kill.
"As a result of the collision the cyclist was left with serious injuries and we would like to wish him a speedy recovery.
"I hope the sentence handed by the court will send out a very clear message that anyone convicted of such offences will be dealt with robustly."
Thank you for reading 20 articles this month* Join now for unlimited access
Enjoy your first month for just £1 / $1 / €1
*Read 5 free articles per month without a subscription
Join now for unlimited access
Try first month for just £1 / $1 / €1