The Pro Continental fight for invites to the biggest races
Teams in the WorldTour are guaranteed places in all the biggest races on the cycling calendar. But those at Professional Continental level have to fight to get entry, and the scrap for places has never been fiercer. So how do they do it?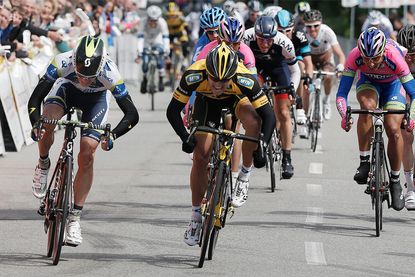 Get The Leadout Newsletter
The latest race content, interviews, features, reviews and expert buying guides, direct to your inbox!
Thank you for signing up to The Pick. You will receive a verification email shortly.
There was a problem. Please refresh the page and try again.
Once upon a time, on a continent not far away, things were relatively simple. If you were a French cycling team, you got to ride the Tour de France. If you were a team sponsored by Vivi, Metauro Mobili or Sammontana ice cream, with a budget smaller than a credit card limit, you were still guaranteed a slot in the Giro d'Italia, and the same went for domestic sponsors in Spain. Teams were looked after in their home countries, rode their national races and Tours and everyone was happy.
However, those less complicated days are long gone. Italian firms sponsored 13 out of the 18 participating teams in the 1983 Giro; 30 years later, only five out of the 23 teams were Italian-registered.
>>> Merckx backs Contador's Giro-Tour bid; Sky's Lopez not sure it will go ahead
These are turbulent times. With the recent global economic squeeze on marketing budgets, as well as the collapse of cycling's bedrock economies in Italy and Spain, cycling has had to reorganise itself in an effort make itself more attractive to sponsors and television. Since 2005, the UCI has tried to offer a structure and calendar of races that guarantee the presence of the biggest teams in the sport — the 18 (17 from 2015) WorldTour squads.
A WorldTour licence means a guaranteed invitation to the three Grand Tours, as well as the highest level of smaller stage races and one-day Classics. In short, it means a degree of media exposure that will help appease and impress current and potential sponsors. If you are a sponsor or team, you want to be in the WorldTour, with its guarantee of Tour de France participation.
The Tour gets more media coverage than all the other races in the calendar combined: what marketing department, calculating a 'return on investment' on team sponsorship, can ignore that brute fact? The growth of the Tour means that it now hoovers up worldwide media attention in such a way that it's become the focus for up-and-coming teams, almost to the exclusion of all other events. Sponsors want to know when their team is taking part and if not, why not, while riders want to get selected, at least once in their career, to tackle the race.
For Professional Continental (Pro Conti) teams especially, the Tour is 'it' and being invited to ride it is the name of the game. But the only way the 22 teams at Pro Conti level can gain an invite to the Tour is to fight for one of four wildcard slots available.
>>> Tour de France wildcard selection will boost race's worldwide appeal
As such the lobbying and politicking that goes on at the Tour for Pro Conti teams to gain one of these invitations makes those times look like they were part of another sport, certainly another sporting culture.
So how then, do team's get themselves one of those elusive places?
A new era
In the old days, teams got an invite because they had a national sponsor, and results didn't matter. These days? Well, things have changed. Rather than being guaranteed a place in races, teams now have to prove their worth, whether that's with big-name riders, by winning races or putting in good performances.
African Professional Continental team MTN-Qhubeka were selected for their first Grand Tour in 2014; the Vuelta a España. Douglas Ryder, team principal and driving force behind the squad explains that decision. "Do race organisers bring our team to races because of the story behind the team or because it's successful? The answer is the latter — it's because we've been successful, because we won Milan-San Remo [in 2013]."
In a sentence, it encapsulates the new reality of global cycling.
"Do organisers want teams who are crawling along doing a team time trial in front of an ambulance? No. Do they want big name riders? Sure. But if I want to keep hold of the best talent in this team, then I have to make sure the team is good enough — good enough to keep the talent and good enough to get invited to big races."
>>> MTN-Qhubeka boss Doug Ryder 'nearly passed out' on hearing his team received a Tour de France invite
To be competitive in the biggest races, Pro Conti teams need to buy riders to win or perform well. This is what MTN-Qhubeka did at the end of the 2014 season, by signing well-known riders such as Matt Goss, Edvald Boasson Hagen, Steve Cummings and Tyler Farrar. "I think the UCI is forcing teams like ours down that path [of buying established riders]," continues Ryder.
From 2016, the UCI is restructuring the WorldTour. Pro Conti teams with ambitious, supportive sponsors and bigger budgets, will be able to hire riders with WorldTour points to make sure they are in the top tier of the new second division. "In 2016 and 2017 when the licensing structure changes and there's an upper second division tier, that will change things. For now, the first division are all allocated on points but currently in the second division, points don't matter, you get wildcard invitations to races based on the whim of organisers, because there are no defined rules about what the selection criteria are.
>>> Tour of Flanders 2015 wildcard teams revealed
"It's a lottery, which makes it hard to build a team when all you are doing is putting all your money on 13 black and spinning the wheel, you know?"
To recap the current situation then: as an ambitious Pro Conti team you need to get invitations to races, of all levels, and you need to win races. When you win small, you get a chance to win bigger — or at least compete at the top table. How, exactly, do you get invited?
One way is for teams to pay organisers, as one general manager explained. "If you are lucky enough to have an ambitious sponsor, you contact a race organiser and basically offer to pay, either as some kind of entry fee or, a bit more roundabout way, your sponsor or one of its subsidiaries might sponsor a jersey or a competition within the race. Either that or you buy a lot of hospitality or advertising packages on the race.
"Teams and organisers will tell you it's separate departments — sporting and marketing, but really? Come on…"
There is, as ever, more than one way to get into a race, though most are often bound up with cash.
If you can persuade your team sponsor, for example, if they have commercial interests in the race territory, to enter into a commercial agreement with race organisers, then your chances of a wildcard invitation rise exponentially.
"It's always a battle and it's getting harder, you really have to start lobbying in November, contacting organisers telling them you'd love to ride their race, telling them what you'll bring in terms of riders and profile.
"WorldTour teams don't have that problem; they have money and riders and get automatic invites. Pro Conti teams have less money and have to try to find 'entry fees' and then get less start money once they get there. A team with a star rider like Mark Cavendish might get €20,000 'start money' if they brought him along to a week-long stage race," revealed one source.
>>> Mark Cavendish wins the Clasica de Almeria
Clearly, having a moneyed sponsor, some friendly contacts and some big name riders helps, however, the team still need to present themselves well.
Tom Southam is currently sports director at Drapac, but last season he was working for the British Continental team Rapha-Condor-JLT. One of their biggest coups was getting an invite to the USA Pro Challenge — a UCI 2.HC level race — alongside a number of WorldTour teams.
He explains a number of factors played a part to get them an invitation, and it was not necessarily their capacity to win the race:
"Partly that came about because Kristian House [one of the riders, who grew up in America] knew guys on the organising committee; partly because Kristian had been animating the Tour of Britain for years; partly because of what Rapha is [its reputation] in America; and partly because John [Herety, team manager] runs a really good team that presents itself well and represents the sport in a really attractive way.
"There were a whole lot of reasons why we got an invitation to that race and, as in so many cases, it's not because we were going there to win.
"When race organisers are working out who to invite, it's not just about who can win, it's about a level of professionalism that the team projects on and off the bike, even at the hotels," insists Southam.
Planning headache
Before the 2015 season has even started, general managers of teams will have been calling and emailing contacts and race organisers, looking for invitations to events so that they can build a programme of events for the year — a crucial part of running a successful, modern cycling team.
>>> UCI WorldTour calendar 2015
Former NetApp Endura sports director and coach Alex Sans Vega, now with MTN-Qhubeka explains: "It's really difficult, almost impossible, to plan a race and training programme for a rider for the season when you don't know what their race programme is going to be."
And even when you do get yourself a race invitation, it may be that your star rider isn't in the form that you want at that time. "[This] is another reason why wildcard Pro Conti teams can struggle in big races," explained MTN-Qhubeka's general manager, Brian Smith.
"They can't prepare teams as well as others because you just can't get as solid a racing programme as WorldTour teams. It's really hard to get a foot in the door of a big race with an organiser.
"Then you've got to justify your presence and work out how to show yourself in the race.
"Plus, these days, some race organisers get sniffy about inviting teams that don't have a big tour bus. Some race organisers want to see parking full of big buses and if you don't have one, well you have less chance of an invite. Sometimes it can come down to that."
>>> Tour of Qatar: a race without the luxury of team buses
However, it's not just the size of your bus and your budget that makes life difficult, it gets even more complicated than that for the Pro Conti teams hoping to impress. As Southam says: "There are times when you'll get an early invite to a race and prepare and plan for it, then at short notice, you'll get an invitation to another race which would actually be better for you.
"But because you had your, say climbing team already committed, you might need to send a team that wasn't really suited to the event.
"The best thing to do would probably be to say 'no thanks' to the invitation, but because the race organiser has a portfolio of events that you would like to ride further down the road, you feel that you can't refuse in case you never get asked again. It's tricky."
>>> Europcar could see rider exodus after losing WorldTour licence
As Ryder points out, there is currently no system in place as to how Continental teams are invited to races, so it's often a matter of who managers are friends with. Pro riders who move into team management after they retire still have contacts with race organisers and those friendships can pay dividends.
One British team manager says: "We were contacted by a race organiser who said that another team had put in a good word for us and would we like an invite to this stage race. It turns out that we had done the team who 'proposed' us a similar favour the previous year.
"When people mutter about some teams having 'friends in the bunch' that extends outside the race too."
Big names matter
As cycling has become a global sport, teams have to make themselves more appealing to ride international races. Ryder, Smith and the MTN-Qhubeka team got some flak for signing several non-African riders this winter but, as with so much in cycling, the big picture was hard to see.
MTN general manager Smith illustrates the conundrum with another example: "On one level I can see why some people were upset and others wondered why we were signing some of those guys whose careers they thought had stalled.
>>> Edvald Boasson Hagen's fresh start at MTN-Qhubeka
"But they are still big names and race organisers want to invite teams with big names, even if they haven't necessarily been flying in top form.
"Obviously we believe that they can get their form back and win again, that's the main thing.
"But if I have a choice to make between signing a talented young rider who might come through with some results or an established name who might win again and who is known by race organisers, well, you can see what a tricky choice that is."
As you may now appreciate, there's more to running a successful Professional Continental team than meets the eye.
There's some treacherous terrain to negotiate if you want to take a punt at a ride in the WorldTour.
From 2016, the upper level of the second division will be more or less guaranteed places in the top races and the chance of an idiosyncratic wildcard selection will recede still further.
Perhaps it will be better than the 'system' that exists now? Realistically the odds are that the fight for a place at cycling's top table will be just as fierce and still fought on several levels.
Thank you for reading 20 articles this month* Join now for unlimited access
Enjoy your first month for just £1 / $1 / €1
*Read 5 free articles per month without a subscription
Join now for unlimited access
Try first month for just £1 / $1 / €1