The questions you never dared ask a pro cyclist
As otherwordly as pro riders may seem, they're only human and are just as prone to acts of stupidity as the rest of us, as CW found out...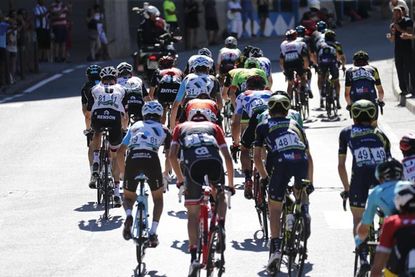 (Image credit: Yuzuru SUNADA)
Whether swooping down a descent taking perfect lines or spinning at lunatic cadence up a climb, the pros make it look easy. At times it feels like they're on a different sporting plane, beyond the reaches of us mere mortals.
And it's this feeling that raises niggling, awkward questions in our minds: How the hell do they do that? What's the real difference between them and me? Do they ever get it wrong and make mistakes?
Inspired by Phil Gaimon's book Ask a Pro, we have done just that: sought out some of the world's best riders and asked those 'gut instinct' questions — no matter how awkward or embarrassing...
Phil Gaimon
US pro rider 2009-2016, latterly with Cannondale-Drapac
Q: How much does your weight fluctuate through the year? When do you lose weight, and when do you just try to maintain it? How do you choose your ideal race weight?
A: Most guys put on five to 10 pounds in the off-season, but I don't think anyone fluctuates more than that. The race season is spread out so much, you can never afford to be unfit. I don't go more than five [pounds overweight], because I would dread the effort required to lose it.
>>> Nine things only Yorkshire cyclists know
I only try to cut calories when I'm training. You set a weight target for an event, and whether you get there or not, once you're a couple days from the start, it's a lot more important to be fuelled and ready to race than it is to be super-skinny. I've heard of some guys using stage races to lose weight, but I think most of us are too scared to bonk. If I cut calories at a race dinner, I'm sure I'd accidentally make the early break the next day and regret it.
To choose your ideal weight, a lot of riders just think, "If that was my best result, imagine how well I could have done if I was two pounds lighter." It doesn't always work out: I've had good results at 146lb, but great results at 152lb. The best method is to keep a training log and look back over all your competitions to see what you weighed for your best ride. That should be your ideal weight. Pass the celery, please.
Q: How many punctures does it take to ruin a ride?
A: When it comes to flats, the limiting factor isn't how many flats one could possibly have, as much as it is about how many spare tubes one brings. I carry two tubes most days, three for rides if I expect lots of miles, dirt roads and bad phone reception.
Once I get the second flat, I'm calling a friend to come pick me up, because let's face it, the ride is ruined. If I keep going, I'll probably get hit by a car. Does anyone keep riding after a second flat if they don't have to? If you have, what went through your mind? Did you really think it was going to be a pleasant spin from there? Was it a productive training day? Maybe you continued out of a sense of guilt, like you'd feel 'soft' if you didn't complete the workout? I'd say you're tempting fate.
The line between perseverance and banging your head against a wall is a fine one. Wait. No, it's not. The line is two flats. Same thing when it comes to road rash. If you crash in a race, sure, keep going. But if you crash on a training ride, accept your fate and take the shortest route home. Don't go and do intervals with your shorts all ripped up.
Q: Is it true that cyclists abstain from sex before races because it lowers testosterone and can hurt performance?
A: Yes, but only if abstain means, "We don't have sex because no one wants to date a dude with shaved legs who mostly lives in a bus and marginal hotels."
Q: What is the most common training mistake you see amateurs make?
A: I've noticed people do long rides and attack each other on climbs. It's a good workout, but there's rarely any structure. You'd be surprised at the gains you can make if you plan out efforts of specific lengths for each ride, with mini-cycles and built-in recovery, repeating those efforts weekly. Find a good coach and you'll learn how to maximise your time and what you're capable of. Or find a bad coach (who promises he's a good coach) and throw money down the toilet.
>>> Embarrassing cycling problems, and how to prevent them
Q: If a cyclist doesn't drink coffee, is there something wrong with them?
I didn't drink coffee until I was 27, when I moved to Europe for the first time. I watched all the guys take an espresso on the team bus and followed them just to fit in. I haven't gone a day without coffee since. Sometimes I have five. Remind me not to try heroin.
Q: What is the worst meal you have ever had at a race, and did it have any dire consequences?
A: I don't know if it was the salmon or the salad that got me at a three-day race in Flanders last year, but the consequences were dire for me… and for the team-mate who had to share a hotel bathroom.
Q: How do you stop yourself from eating unhealthy foods? Hypnotism, hiding in the woods, or tying your hands together between meal times?
A: Dammit, people! It's just self-control! Is that so hard? Fill up on veggies and healthy things, and just don't eat the garbage. Now, where are my cookies?
Geraint Thomas
2018 Tour de France winner

Q: Which training fads annoy you?
A: It doesn't annoy me, but I find it funny that a lot of the guys down here [southern France] think that us at Team Sky are always doing something different or crazy. Luke Rowe and I started a rumour that we do 'onion days', when all we do is eat onions. Quite a few of the pros around here believed it, which was quite funny.
At the end of the day, we just train hard, rest well, eat well and that's it. It's just hard work and I think sometimes they think we must be doing some crazy new diet or crazy new training regime, but it's pretty simple. Maybe I shouldn't say who believed the onion rumour because I'll embarrass them.
Q: What's the worst fashion crime you or a team-mate has committed?
It's not a massive one but Christian Knees always wears his socks over his leg-warmers, and that's not the best. And off the bike, his get-up is not exactly… it's a good job he's got team kit we've got to wear!
Q: What's the strangest meal you've ever eaten at a race and did it have any consequences on your performance?
A: In France, we've always had pretty bad meals. Luckily we've got a chef these days. With Barloworld in 2007, during the Tour it was like doing the Tour of baguettes, boiled chicken and terribly cooked pasta. That year always stands out.
Q: What do you think about at that moment when you know you're about to crash?
A: You just think 'Ah shit!' You have that split-second where you're like, 'This is going to hurt'. The best are the ones where you are down before you know it — you don't even have that split-second to think.
In the motorbike one [in the Giro] I was on the floor before I knew it, whereas in the one with [Rafal] Majka in the Tour he came down in front of me and you have that split-second where you think, 'This is definitely going to hurt, we're doing over 50kph on this downhill'. It's not a nice feeling at all. It's instinct how you fall, I guess. I normally fall pretty well; this latest crash was the first time I've broken my collarbone.
Zdenek Stybar
Quick Step Floors Classics specialist and former world cyclocross champion
Q: Do you ever have amateurs race you in training? Do you mind?
A: Yeah, when I trained in America during the winter months, I had amateurs ride with me. I was training there before the Tour of California and one guy joined me on a climb.
We had a good chat; he had friends who were from California. Later, when I was racing there, he and his friends were at the side of the road shouting and cheering for me, asking if I remembered them.
Sometimes riders try to race me when I'm just trying to do a session. Other times, when I just want to ride easy, they want to race me downhill — I'm just like, 'Take it easy, we are on the open roads'. But sometimes it is difficult to tell them.
Q: What's the most common training mistake you see amateurs make?
A: I see a lot of riders who train full-gas in December, doing 200km every day, killing themselves every day. They try to keep it going through January, and by the time they start to race, they are really tired. A lot of them ride in groups, which motivates them to train but they end up just following the others rather than focusing on their own training.
Stefan Küng
BMC Racing, former pursuit world champion
Q: What's the strangest or most embarrassing crash you've ever had?
A: When I was racing Six Days of Zurich, we had team presentation and then had to ride down onto the track. There were two guys standing on a corner, and I just ended up riding straight into them as I had no brakes and fell over, but no one was hurt, so it was OK.
Q: How do you stop yourself from eating unhealthy foods?
A: I live with my girlfriend, so I normally do the food shopping and basically buy as little food as possible. If there is no food around, I can't eat it. This can backfire, as I never take any food with me when I go out, so as soon as I am really hungry, I stop at a bakery. But sometimes training can be pretty boring, so it is always important to go hard — then you can justify going to the bakery afterwards.
Rob Partridge
Retired rider and former U23 British champion
Q: What do you think about during long training rides to stave off the boredom?
A: I tend to just switch off, but sometimes I think about jobs I need to do or random money-making ideas that will earn me millions. So, useless things really.
Q: Describe your strangest or most embarrassing crash.
A: Plenty to choose from here, but it'll have to be riding over to greet my old team-mates at a stage start, bunny-hopping the kerb but misjudging it, landing my front wheel directly on the edge of the kerb and going straight over the bars. Took a good while for the piss-taking to stop!
Q: What is the biggest fashion faux-pas you have made or witnessed a team-mate commit?
A: An old Dutch team-mate of mine used to wear arm-warmers as calf compression socks — that's just odd. There's always some horrific casual teamwear out in Europe, although it's slowly improving.
Graham Briggs
JLT-Condor rider and former national crit champion
Q: What is the strangest training ride you have ever done?
A: Back when I first started, as a junior or first-year senior, Kevin Dawson, John Tanner and I went to Tenerife and got caught in some awful weather at the top of Mount Teide. We only had short-sleeve jerseys and shorts on. The road turned to ice and it started to snow.
We ended up having to get a lift down the other side of the mountain with a Spanish couple, then a bus back to Los Cristianos. The ride should have taken about five hours; we were out for 10 hours in total — much of that time sitting in soaking wet cycling kit on a bus packed full of people. We were just happy to be warm again; I can still remember it so well.
[Dawson and Tanner are] the hardest men in cycling I know; for them to have got in the car, it must have been pretty bad. I was just a club cyclist back then, training in France on Dave Rayner funding. These days, I always take arm- and leg-warmers every time I go out, and a rain cape — I've learnt the hard way.
Q: Do I really need to shave my legs?
A: I think most cyclists shave their legs because they are vain — they want to look good. When I packed in cycling for a couple of years, I didn't shave my legs. If you can't be bothered to shave, just use a hair trimmer to keep on top of it.
Q: How often do you crash each year?
A: Two or three times a year. I'm quite lucky. I don't know if it is because I've done cyclo-cross. I do have near-misses, though, mainly in training because you are out on the roads every day, with drivers pulling out on you or cutting you up on junctions. When you are in a race with 100 guys around you, you're more aware of the risk.
Dean Downing
Former national crit champion; now a coach with Trainsharp.com
Q: What is the most common training mistake you see amateurs make?
A: The classic mistake is riders putting loads of effort into their training but making mistakes in the final run-up to events, throwing away months of great preparation with a moment of thoughtlessness.
I was coaching a rider who was new to cycling. He had a sportive lined up and he worked really hard preparing and training for it. However, the event was near where an old friend of his lived, so the night before, they met up. One thing led to another and they went for a few beers and a curry.
He didn't ride well in the sportive and was really disappointed with his time. When I spoke to him about it afterwards, he admitted he'd had far too many beers and had felt terrible all the way round. It's a shame — he blew six months of good preparation and hard work on one night of not really thinking.
This article was originally published in 2017
Thank you for reading 20 articles this month* Join now for unlimited access
Enjoy your first month for just £1 / $1 / €1
*Read 5 free articles per month without a subscription
Join now for unlimited access
Try first month for just £1 / $1 / €1