QUICK STEP STAY AMBITIOUS FOR 2008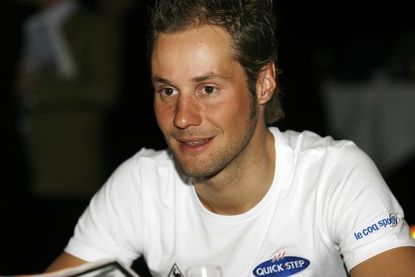 Quick Step co-leader Tom Boonen has flung down the gauntlet and announced that for 2008 he wants both to win Milan-San Remo and take the yellow jersey in the first week of the Tour this summer.
Never unambitious, Boonen said during Quick Step?s team launch that ?San Remo has been one of my dreams since I was a child. It?s a strange race you can win five times in a row, or lose five times in a row. But it?s also the one ?Monument? I know I can win which is still missing from my palmares.?
The 27-year-old - who has recently split up with his young girlfriend Sophie Van Vliet - told the Italian media on Friday that ?my one aim at the moment is to ride my bike.?
?I don?t know if I?m stronger, but I?m certainly more mature as a person, calmer before and during races.?
Boonen may miss out on early season Classic Het Volk, because riding the Tour of California may not give him enough time to recover from jet lag. He explained that his choice to ride California ?was because it?s good to break things up occasionally and do different races from time to time. Plus it?s very important for our sponsor, and we?ve heard great things about the race.?
Meanwhile Quick Step co-leader Paolo Bettini has announced that he wants to become the first ever rider to win the World Championships three times in a row, as well as taking the Olympic road title for a second time. Bettini and Boonen will both ride the Tour of Flanders - and Bettini may still take part in Paris-Roubaix.
Quick Step?s 2008 line-up - presented in the western Belgian town of Kortrijk - also includes Belgian sprinter Gert Steegmans, Italian national champion Giovanni Visconti and Belgian national champion Stijn Devolder. They have lost double Flanders winner Peter Van Petegem (retired) as well as Tour stage winners Serge Baguet and Cedric Vasseur, but new signing Devolder, as well as 2007 Tour of Spain leader Alexandre Efemkin should bolster their line-up for major stage races.
In any case, the heat is definitely on the Belgian ProTour team this year: not only did they fail to win any major Classics in 2007 - for the first time in nearly a decade - but despite taking 51 victories last season their sponsorship deal runs out at the end of 2008.
?Even if the team?s future isn?t certain, we?re still very relaxed and I?m hoping for a great season this year.? Steegmans - who won a Tour stage in Ghent last year - commented.
?Tom and Paolo are so cool, that we all calm down. That?s why we?re such a strong team.?
?We want to do well in the stage races.? directeur sportif Wilfried Peeters added. ?But first come the Classics.?
Photos by Luc Claessen
Thank you for reading 20 articles this month* Join now for unlimited access
Enjoy your first month for just £1 / $1 / €1
*Read 5 free articles per month without a subscription
Join now for unlimited access
Try first month for just £1 / $1 / €1