Rapha-Condor-Sharp's star-studded London launch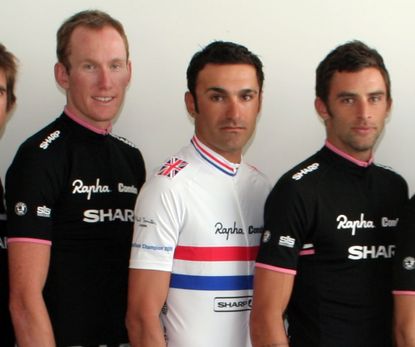 Cycling stars mixed with pop stars and classic cars to celebrate the launch of the 2010 Rapha-Condor-Sharp team in London on Thursday night.
The British-based team not only officially introduced its roster for the 2010 season at the Classic Car Club on Old Street, but also welcomed new title sponsor Sharp, the electronics manufacturer.
British national champion Kristian House and team-mates Dean Downing, Chris Newton and Tom Southam were among those mingling with the crowds among the vintage vehicles, which included Rapha's own immaculate Citroen H broomwagon.
Spandau Ballet guitarist and recent cycling convert Gary Kemp was present, along with former Face magazine writer Robert Elms, who championed Kemp's band in the eighties.
Now in its fourth year, the team is looking towards Europe and further afield as well as contesting British events. "It will be a continuation of the journey we have already started," said team manager John Herety.
"Each year the team has got better and better. We have reinforced it again this year, not necessarily from the top down, but from the bottom up."
"We are going to try and race on a number of different fronts: in Asia, hopefully in the Tour of Japan; we start the season at the Tour of Taiwan and Tour of Normandy," continued Herety.
"We will also be supporting the home season here in the UK. Our new partners, Sharp, are very keen that we do well here, and we will always have a strong team here in the UK. The Tours of Ireland and Britain will also figure very highly, and the Tour Series of televised criteriums is important for all our sponsors."
The squad's new Condor Leggero team bike
It's in the jeans: Rapha-Condor-Sharp line up
Rapha-Condor-Sharp 2010 team roster
Graham Briggs
Dan Craven
Matt Cronshaw
Zak Dempster
Dean Downing
Ben Greenwood
Kristian House
Darren Lapthorne
Chris Newton
Tom Southam
Jonathan Tiernan-Locke
Dean Windsor
Related links
Rapha-Condor gets Sharp for 2010 season
Thank you for reading 20 articles this month* Join now for unlimited access
Enjoy your first month for just £1 / $1 / €1
*Read 5 free articles per month without a subscription
Join now for unlimited access
Try first month for just £1 / $1 / €1