Revolution track series saved after financial issues
Revolution Series organiser Face Partnership acquired by Beatermed Limited, ensuring that the 2017/18 series continued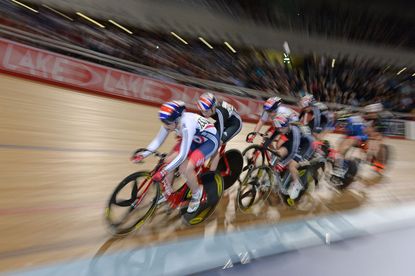 (Image credit: Andy Jones)
With the second round of the Cycling Revolution track series this Saturday (December 2) in Glasgow, more information has been revealed about the parent company's financial issues.
Last week, Face Partnership – which has run the Revolution track series since its inception in 2003 – was saved from collapse, as reported in Cycling Weekly magazine.
After years of financial pressure, Face was on the brink of bankruptcy when it was bought, saving the series just days before the opening round in London.
At the end of the 2016/17 financial year, Face Partnership was in the red to the tune of £729k, and it has now been acquired by Beatermed Limited who, along with Redwood Sports, are now responsible for all Face's events.
"In June 2016 we secured Redwood Sports Limited as an investor and shareholder in Face with the intention of helping Face deliver an ambitious expansion strategy," Face Partnership Director James Pope said in a statement to partners, stakeholders and Cycling Weekly.
"Unfortunately, we faced several challenges and the strategy didn't go to plan. To ensure I found an optimal solution for our creditors, and in the hope that I could find a solution that enabled our events to continue, I have spent the last few weeks trying to sell Face with the assistance of professional advisors."
Since Pope created Revolution in 2003, it has provided Britain's track stars with an extra level of competition below major championship and World Cups. It provides exciting racing which is enjoyed and appreciated by riders.
"It's the most competitive racing at this level," said Katie Archibald at last week's Revolution in London. "We have UCI races were we can pick up points, but sometimes it's not even a full field. Here it is a full field and every ride is competitive."
>>> Jason Kenny begins build-up to Tokyo 2020 Olympic Games at Revolution Series
Another aspect of Revolution is its Future Stars series which sees junior riders competing at each of the rounds and has helped launch the careers of many top road and track riders.
"I take the most satisfaction from the work we have done in youth development with the Future Stars – to see athletes come through Revolution and end up on Olympic podiums has been one of my biggest joys," Pope's statement continues.
"I have no official engagement with the new company but is my intention to do everything I can to ensure the Glasgow and Manchester events go ahead as planned and are organised successfully."
Watch: Revolution Champions League highlights 2016
According to Face's joint administrator, Gary Shankland of Begbies Traynor, the future of the Revolution series has been secured.
Saturday's Revolution at Glasgow's Sir Chris Hoy Velodrome will go ahead as planned, with Olympic champion Ed Clancy joined by Tom Moses. Their JLT-Condor team will hope to close the gap on series leaders Team Inspired who were victorious in London.
>>> Great Britain dominate team pursuit events to take double gold in Manchester Track World Cup
Former road world champions Lizzie Deignan and Amalie Dideriksen will represent Boels-Dolmans and will also hope to overturn Team WNT's advantage in the women's elite competition.
More information can be found on the Cycling Revolution website.
Tickets are available for both sessions on the door with the day session beginning at 1pm and the evening starting at 7pm.
Thank you for reading 20 articles this month* Join now for unlimited access
Enjoy your first month for just £1 / $1 / €1
*Read 5 free articles per month without a subscription
Join now for unlimited access
Try first month for just £1 / $1 / €1