Riding the 1928 Tour de France on vintage bikes: 'Le Ride' film released on November 9 (video)
Amazing documentary film 'Le Ride' follows Phil Keoghan and Ben Cornell as they tackle the route of the 1928 Tour de France on 1928 bikes - Watch the trailer here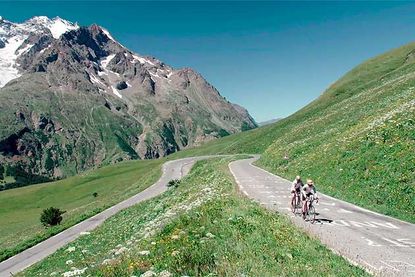 A film charting the trials and tribulations of two riders as they tackle the route of the 1928 Tour de France on vintage bikes from the era will be shown in cinemas for one night only on Thursday, November 9.
Le Ride is a documentary that follows Phil Keoghan and Ben Cornell as they prepare for and then tackle the gruelling route of the 1928 Tour, which circumnavigates the whole of France.
New Zealander Keoghan may be known to some as the host of long-running American TV show The Amazing Race and is no stranger to long-distance challenges, having previously ridden across America.
The film starts with some stunning aerial shots of the sort of mountain scenery the Tour is famous for, before cutting to a more rainy scene as Keoghan and his team attempt to find the roads used in the 1928 Tour from limited information retrieved from archives.
>>> Tour de France 2018 route: Alpe d'Huez and Paris-Roubaix cobbles to return for 2018 race
Many of the original roads have either vanished or been turned into motorways, but they piece together the route that travels down the west coast of France, across the Pyrenees then east to the Alps and up to Paris. No air transfers, just 240 kilometres every day for 26 days on a bike with no gears and barely functioning brakes.
Finding authentic 1928 bikes was also a problem, and Keoghan enlists help from engineers to make the models they use roadworthy and functioning but without compromising their authenticity for the challenge.
Inspiration for the challenge came from New Zealander Harry Watson, who became the first rider from his country to take part in the Tour in the race's first English-speaking team, as he joined three Australians: Sir Hubert Opperman, Ernie Bainbridge and Percy Osborne.
Despite being poorly prepared compared to their European counterparts, three of the team were among the 41 finishers of 161 starters in the 1928 Tour.
>>> New cycling film celebrates Middle Aged Men in Lycra (video)
It's a compelling documentary that has an appeal beyond the cycling community, brilliantly filmed and with the various elements – finding the route, renovating the bikes, recounting Watson's experience as well as Keoghan and Cornell's own experience – expertly woven together.
Le Ride will be shown in 40 cinemas across the UK and 300 cinemas in the USA for one night only on Thursday, November 9, at 6.45pm. Locations and advanced tickets can be found via the film's distributor, Demand Film.
Demand Film were also behind the recent release of the MAMIL film, which celebrates the relationship between middle-aged men in Lycra and cycling.
Thank you for reading 20 articles this month* Join now for unlimited access
Enjoy your first month for just £1 / $1 / €1
*Read 5 free articles per month without a subscription
Join now for unlimited access
Try first month for just £1 / $1 / €1