Rinaldo Nocentini interview: An Italian in yellow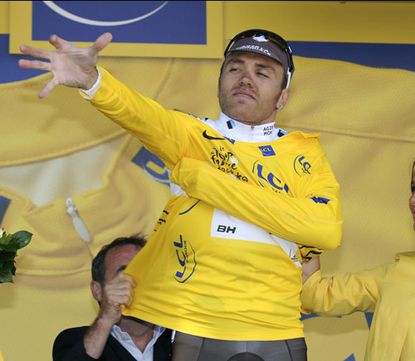 Cycle Sport's Big Read 2009 What is it like to wear the yellow jersey in the Tour de France? We caught up with the Italian Rinaldo Nocentini, who had that honour during this year's race

This article appeared in the September 2009 issue of Cycle Sport
Andy Warhol suggested that one day, everyone would be famous for 15 minutes, but at the Tour de France Rinaldo Nocentini stretched his moment out to eight days.
Depending on your viewpoint, the middle week of the Tour might have been seen as a bit of a yawn. Mark Cavendish would disagree, and so would Nocentini. For the Italian, the journey between Arcalis, in the Pyrenees, and Verbier, in the Alps, were the best days of his life, when the cycling Gods paid him back for years of near anonymity in professional cycling.
"Some people might say I was lucky, that I was just in the right place at the right time, in the right break on the right stage," he tells Cycle Sport. "Perhaps. But I believe in destiny," he continues.
"The night I first met my wife I was already in bed and was suffering with tendonitis. A friend dragged me out for a drink and took me to a pub, where I first met Manola. As I said I don't think certain things happen by chance but because it's our destiny."
Destiny gave Nocentini another helping hand on stage seven from Barcelona to Arcalis, in Andorra.
After a poor first half of 2009, in which they won only three races, Nocentini's Ag2r team had performed well in the team time trial, finishing ninth, 1-48 behind Astana. He was eighth in the uphill sprint to Barcelona and lay 32nd overall, only 3-13 behind Fabian Cancellara, when the Pyrenees loomed on the horizon.
Ag2r team manager Vincent Lavenu quickly realized Nocentini had a chance of yellow or at least a stage win, if the overall contenders let the break go and then hesitated on the climb to the finish. Nocentini made sure he was in the move that went clear in the rain on the hills outside Barcelona. The break quickly opened a ten-minute lead and Nocentini was 'leader virtuel' of the Tour de France.
The trick was how to turn 'virtuel' into real.
Nocentini encouraged the other riders with a few strong 'Allez, allez.' Lavenu had also played a clever tactical game by getting team-mate Christophe Riblon into the break, and he worked generously to keep the gap high. Brice Feillu (Agritubel) attacked with six kilometres to go and stayed away to win the stage but Nocentini was focused on taking the yellow jersey. Like a carrot dangling on a stick before him, the image of the yellow jersey was before his eyes, and he went for it, hard.
"With five kilometers to go I knew that I had a chance of getting the jersey and so I totally focused on that," he says.
"I could have gone after the stage win but I gave it everything on trying to hold onto a enough time to get the yellow jersey. The three minutes I had to wait for Contador were agonizing. I could see the television and could see he was flying. One minute it seemed that I was going to be okay and then the next I thought I was going to miss out after all that I'd done. We'd given up on a stage win, the polka-dot jersey and it looked we'd miss out on yellow as well."
"When I saw that Contador wasn't going to make it and then that I had the yellow jersey by six seconds, it was fantastic. It was just six seconds but it was the difference between yellow and nothing. Between everything and nothing. It was the moment that changed my career."
It meant Nocentini became the 24th Italian to wear the yellow jersey. Ottavio Bottecchia was the first way back in 1924, with Alberto Elli the last in 2000.
Six seconds is virtually nothing but it was enough for Nocentini. The finish in Arcalis had raised all the big overall contenders to the top of the general classification but none of them wanted the burden of wearing yellow so early in the Tour.
Nocentini knew that if he could get over the Col du Tourmalet, the final climb of the Pyrenees, and finish with the leaders, he'd wear yellow all the way to the Alps.
"It was the longest climb of my life but I made it," he says.
"Everybody was shouting my name. Fortunately the team was superb. We let the break go and then controlled things pretty well."
"On the climb I was close to Andy Shcleck and Contador and then I followed Armstrong down the descent, almost as if he was my domestique," Nocentini says.
After the Tour left the Pyrenees and headed north, via Limoges to Issoudun, Saint Fargeau and Vittel, Mark Cavendish collected stage wins, while Nocentini collected days in yellow. Ag2r shared the work on the front of the peloton with Cavendish's Columbia squad. They also shared the glory.
Each day was another huge bonus for the Ag2r team. And each day made their awful new brown and white colours more palatable.
Vittel. Six days in yellow, and Nocentini equalled the record of 1998 Tour winner Marco Pantani, Mario Cipollini, Italo Zilioli and Vito Favero. The cold and wet conditions in Colmar the next day limited the attacks. That took Nocentini to seven days, matching Learco Guerra and Francesco Moser in the all-time list of Italian yellow jersey wearers.
It almost went wrong the next day, when George Hincapie missed snatching the jersey by five seconds after a controversial chase by some rival teams, but destiny favoured Nocentini again. Eight days in yellow. Just like his hero Claudio Chiappucci.
"Chiappucci was crazy when he attacked in the Tour but I loved the way he went for it," Nocentini says.
"We almost lost the jersey to Hincapie when the gap went up to eight minutes. We talked about letting Nicolas Roche go for the stage win because the lads were on their knees. However a French team can never give up the yellow jersey and Jose-Luis Arrieta and Stéphane Goubert gave it everything. Then Garmin gave some help without us asking, and somehow I kept the jersey for another day."
The end was in sight, and it came, as expected, on the climb to Verbier on stage 15. He didn't even try to hang on when the Tour favourites detonated the race. Contador romped away at twice the speed, while Nocentini wisely paced himself. There were no more heroics for the Italian, but conservative riding allowed him to finish 14th in Paris.
"I tried not to get used to wearing the yellow jersey too much because I knew I'd lose it one day and didn't want it to hurt when I did," he says.
"I gave it everything to keep it for as long as possible and I held it for eight days. I kept it for as long as I realistically could."
"It felt strange not wearing it after the second rest day because the yellow jersey does change your life. I'm still the same but I can sense that my cycling career has changed. The yellow jersey has changed my career."
"Before I pulled on the yellow jersey I never really realised how special it is. It gives you an amazing feeling and really is like a golden fleece."
"It's also a doubled-edge sword because while it gives so much it also takes something in return. When you're in the yellow jersey, you're at the centre of attention of the biggest bike race in the world. The people along the road always look for the yellow jersey in the peloton and call your name, even when you're riding next to Armstrong or Contador."
"Wearing the yellow jersey means there's extra responsibility and people to talk to. Now I know what the Pope feels like. My French isn't great and so all the interviews on television radio and for the newspapers were like riding extra kilometres for me."
THE ITALIAN REACTION
Wearing the yellow jersey elevated Nocentini to the level of national hero, especially in a Tour which was otherwise quiet for the Italians.
Nocentini 'in giallo' was front page news and the appreciation for how he managed to hang on to the yellow jersey day after day was huge.
Nocentini's nickname of 'Noce' - Walnut in English, was all over the papers. And his fan club changed their slogan from 'The walnut will give its fruit' to 'The walnut has given its fruit'.
He will not be remembered like Pantani or Moser but the millions of Italians who read Gazzetta dello Sport at the bar every morning, all cheered for Nocentini.
Whenever an Italian succeeds in France, it helps Italians shrug off the inferiority complex they have with their so-called 'transalpini' cousins. Nocentini in yellow was as moment of national pride, like Italy beating France in the 2006 football world cup final. Even Italian Prime Minister Silvio Berlusconi was grateful because Nocentini helped take some of the spotlight away from the scandals surrounding his private life.
Nocentini is a bit naïf with his blond highlights, mop top haircut and chunky earring. But his love for a bit of karaoke and a nice glass of red wine made him one of them.
A FAMILY LIFE AND HIS EARLY CAREER
Nocentini comes from the very heart of Tuscany, from the small village of Montemarciano, south of Arezzo.
The area is now known for the Chianti vineyards, spectacular rolling hills and expensive country estates but Nocentini's grandparents were poor farmers. His dad was a builder and his mum a housewife who was kept busy bringing up their ten children.
"I'm the ninth out of ten," Nocentini says with a smile.
"It's the way families used to be in the poor parts of Italy, I've got over 30 cousins and I've already got a dozen nephews and nieces. There are 21 years difference between my oldest brother and my youngest sister but just 11 months after I was born mum gave birth to my sister. They must have decided to stop at ten and wanted to get it out the way as quickly as possible."
"Our house was always open to everyone although it was often a race to get a place at the table. With so many of us we didn't have a penny but we were happy together.
Rinaldo's older sister Daniela died during the 2008 Giro d'Italia after a long illness and his mother has also passed away. He dedicated his eight days in yellow to both of them.
In the late nineties Nocentini was considered the next big thing in Italian cycling. He was third in the junior road race world championships in San Marino in 1995 behind Valentino China and Ivan Basso and then dominated the amateur scene in Tuscany.
He was the star at Grassi-Mapei, which acted as a feeder team for the Mapei professional team, and was probably earning more than his father when he was only 19.
He helped Italy dominate the world under-23 championships in 1998 in Valkenberg, coming second, while Ivan Basso won the world title and Danilo Di Luca was third. That guaranteed him a place at Mapei for 1999 but while other talented riders like Fabian Cancellara and Filippo Pozzato bloomed, he struggled to fit in.
"With hindsight, I think joining such a big team was bad move for me," he says.
"I won two stages at the Tour of Langkawi in my first year in 1999 but after that I had to work for other big name riders in the team."
"Cycling was always a bit of an adventure for me, a chance to get away from home and enjoy myself. When it all become very regimented and less fun, I lost my way."
After three years, and no wins after those in Langkawi, Nocentini left Mapei and joined Fassa Bortolo, under the management of Giancarlo Ferretti. But Ferretti ran his team like an aggressive sergeant major.
"Ferron knew I had talent but after three or four months things got difficult. I got on with my team-mates but it was a nightmare with him. We were like chalk and cheese," Nocentini says.
"I'm always pretty relaxed about life and always see the bright side of things. I enjoy racing and so I don't want to see myself as a soldier in a battle, trying to take out a rival as if it's a war. Some riders love working with Ferretti. Not me. I was happy to dissolve my contract and move on after a year, even if I had to ride for a smaller team like Acqua & Sapone."
Nocentini rode for Acqua & Sapone for four years between 2003 and 2006. He picked up the odd win and played a key role in helping Paolo Bettini win his first world title in Salzburg in 2006 but there was a feeling he was letting his career slip away. He was never a great fan of going training, with even his wife admitting she often pushed him out of the door in the mornings. Fortunately she also pushed him to join Ag2r in 2007.
Nocentini could have found a place in a big Italian team after the world championships but he had already signed with Ag2r and had started learning French.
Few Italian riders move to French teams and even fewer succeed but Ag2r is perhaps the least 'French' team of all, with almost half of the 30-rider team coming from other countries.
"Ag2r really believed in me. They first showed an interest in the spring, at Milan-San Remo and liked that," Nocentini says.
"They wanted me as leader for the Italian races and for the hilly classics but I noticed that there was far less pressure to get results in the team compared to Italian teams. There was no shouting and screaming but instead support and understanding. I liked that and always work better that way."
"I was 30 at the time and it was the right time to change and perhaps finally grow up. I'd just got married to Manola and I realized I had to grow up."
Joining Ag2r probably saved Nocentini's career. He could have become entangled in the murky waters of the small Italian teams, where the doping culture is still rife and wages are often paid in cash, if at all.
Instead he chose a safer but less trodden route. He had to learn a new language and fit in with French cycling culture but he knows he made the right decision. Destiny paid him back with an unforgettable week in this year's Tour de France.
POST TOUR
While most riders head home as soon as possible after the Tour de France, Nocentini headed straight to the criteriums to cash in on his eight days in yellow. He planned to ride Clasica San Sebastian and then more criteriums before finally heading back to Tuscany for a big family celebration.
Gazzetta dello Sport suggested that Nocentini left for the Tour as a boy but will return home a man. He agrees.
"While wearing the yellow jersey I had time to think about my career," he says.
"It made me reflect on perhaps the mistakes I've made, some of the opportunities I've missed but also on how I've managed to avoid blowing my career."
"Wearing the yellow jersey for eight days was special but I'm also proud that I managed to hold on in the third week, despite all the pressure of the yellow jersey, and finish 14th."
"All the popularity and attention is nice but peace and quiet is even nicer. I was happy to have the yellow jersey but I won't change as a person."
"I'm 31 now but I still feel good and enthusiastic. I hope to keep racing for a while and perhaps even race at 37 or 38 like Lance Armstrong. I've still got something to prove in the classics. I've been up there in Milan-San Remo, I was in the break with Pozzato and Ballan in 2006 when Pippo won."
"I was second overall in Paris-Nice in 2008 and won a stage at the Tour of California this year. I'm not super fast in a sprint but I think I can be competitive in the Ardennes classics. I've been up there most years but without getting a result."
"I knew how to take advantage of what destiny gave me, so now I'm ready for the next time it happens. Who knows, it could be at the world championships in Mendrisio or in a big classic one day. I'll be ready for it."
TATTOOS
Like a lot of professional rider's Nocentini loves his tattoos.
"I've got four but if it was up to be I'd cover my whole body in them. My first was an Indian on my shoulder, the second one is 'Carpe Diem' on my right forearm and I kept looking at that the day I was in the break to Andorra."
"I've also got my name on my neck in Chinese but the biggest tattoo is a Maori design on my shoulder, it's the one you can see when my jersey is open."
ITALIANS IN YELLOW
Rinaldo Nocentini is the 25th Italian to wear the yellow jersey at the

Tour de France. Of these, six have also won the Tour.
34 (days in yellow)
Ottavio Bottecchia (won the Tour in 1924 and 1925)
23
Gino Bartali (won the Tour in 1938 and 1945)
19
Fausto Coppi (won the Tour in 1949 and 1952)
Felice Gimondi (won the Tour in 1965)
14
Gastone Nencini (won the Tour in 1960)
9
Fiorenzo Magni
8
Claudio Chiappucci
Rinaldo Nocentini
7
Learco Guerra, Francesco Moser
6
Marco Pantani (won the Tour in 1998)
Mario Cipollini
Vito Favero
Italo Zilioli
4
Raffaele Di Paco
Alberto Elli
2
Aldo Ronconi
Flavio Vanzella
Ivan Gotti
1
Serafino Biagioni
Vincenzo Borgarello
Andrea Carrea
Tommaso De Pra
Giovanni Micheletto
Giancarlo Polidori
Thank you for reading 20 articles this month* Join now for unlimited access
Enjoy your first month for just £1 / $1 / €1
*Read 5 free articles per month without a subscription
Join now for unlimited access
Try first month for just £1 / $1 / €1