Rollapaluza takes roller racing to Brussels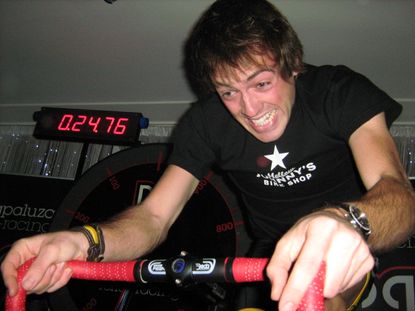 Rollapaluza are taking "coals to Newcastle" on Saturday (18th), when they export their roller-racing show to the land of bike racing, Belgium, followed by Austria in November.
Condor Cycles are one of the prize sponsors. The unique roller-record shows have already been to Holland, France, Germany and the Philippines.
Belgian elite BMX rider Arnaud Dubois and Dutch roller-race champion Joelle Rambach - who beat the men in her national championship - will take on all-comers in Brussels on Saturday.
And Rollapaluza's own Caspar Hughes will be in action, too, one of only 15 competitors - from a massive 15,000 - to ever get under 20 seconds for a 500m sprint.
The organisers have invited many Belgian stars but now wait to see if any dare turn up to ride the special rig.
It can be a chastening experience even for top riders, when an unknown local in Denim steps up and thrashes out a winning time.
The Belgian event in Brussels on Saturday (18th) is from 5pm at Fixerati Concept Cyclery, a new Condor stockist.
Location is: 88 Rue du Page/1050 Brussels. http://www.rollapaluza.com/belgium
The Austrian event is at the Hotel Mohrenwirt, Fuschl Am See, on November 27, at Battlecranks, Fuchsl Am See. www.rollapaluza.com/austria
Thank you for reading 10 articles this month* Join now for unlimited access
Enjoy your first month for just £1 / $1 / €1
*Read 5 free articles per month without a subscription
Join now for unlimited access
Try first month for just £1 / $1 / €1
Keith Bingham joined the Cycling Weekly team in the summer of 1971, and retired in 2011. During his time, he covered numerous Tours de France, Milk Races and everything in-between. He was well known for his long-running 'Bikewatch' column, and played a pivotal role in fighting for the future of once at-threat cycling venues such as Hog Hill and Herne Hill Velodrome.