Russ Downing among nine new JLT-Condor signings for 2016
Elite Road Series winner Steve Lampier and Elite Circuit Series victor Jon Mould also join John Herety's squad.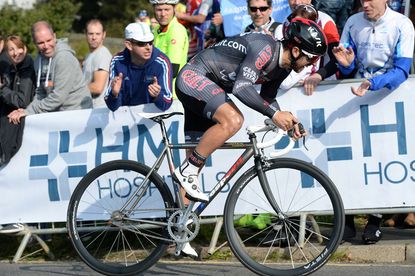 (Image credit: Andy Jones)
JLT-Condor's 2016 line-up will be bolstered by nine signings, with Russell Downing and Jon Mould among the new arrivals.
Former Sky rider Downing joins John Herety's team having spent a season with the Danish Cult Energy squad. Mould, 24, won this year's Elite Circuit Series; he joins from One Pro Cycling, who surprisingly did not renew his contract for next season.
Elite Road Series winner Steve Lampier, promising youngsters Chris Lawless and Stephen Williams, George Atkins, Conor Dunne, Alistair Slater and Kiwi team pursuiter Alex Frame complete the new arrivals.
"We have considerably strengthened the team for 2016," explained team manager John Herety.
"Russ is big signing for us: he will be our team captain for 2016 and his role will be to support our new signings Chris Lawless and Alex Frame as well as our current sprinter, Graham Briggs. I am delighted he has joined us."
Briggs, Ed Clancy, Ed Laverack, David McCarthy, Luke Grivell Mellor and Tom Moses have all been retained from this year's line-up.
JLT-Condor 2016 line-up
George Atkins (joins from One)
Graham Briggs
Ed Clancy
Russ Downing (joins from Cult Energy)
Conor Dunne (joins from An Post-Chain Reaction)
Alex Frame (joins from Cycling New Zealand)
Luke Grivell Mellor
Steve Lampier (joins from Raleigh-GAC)
Ed Laverack
Chris Lawless (joins from Team Wiggins)
David McCarthy
Tom Moses
Jon Mould (joins from One)
Alistair Slater (joins from An Post-Chain Reaction)
Stephen Williams (joins from Pedal Heaven)
Thank you for reading 20 articles this month* Join now for unlimited access
Enjoy your first month for just £1 / $1 / €1
*Read 5 free articles per month without a subscription
Join now for unlimited access
Try first month for just £1 / $1 / €1