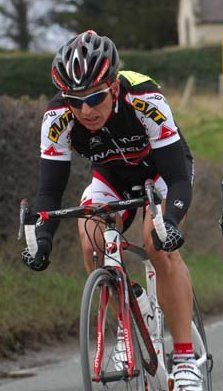 PREMIER Calendar leader Russell Downing (Pinarello RT) extended his lead in the series with a dominant performance on day one of the Chas Messenger Two-Day in Buckinghamshire on Saturday.
Downing leads by 14 seconds heading into the third and final stage on Sunday after taking third and first on the opening two stages respectively.
The race began with a five-kilometre time trial on Saturday morning, and it was Halfords Bikehut ace Rob Hayles who was fastest with a time of 6min 37sec, while Plowman Craven RT?s Tony Gibb clocked 6-46 for second and Russell Downing was third with 6-50.
In the second stage - a 120-kilometre, five-lap circuit around East Claydon - an edgy bunch was alert to any attempted breaks which were quickly pulled back.
It was only on the final lap that anyone got away, and it was Downing who attacked to cross the line seven seconds clear of Corley Cycles? rider Matt Higgins, who held off the attentions of Plowman Craven?s Evan Oliphant.
?I was really pleased with the time trial,? said Downing afterwards. ?I wasn?t sure how it would go, but I was happy with third, as I was beaten by two strong guys. It was a perfect distance for Rob [Hayles] and Higgins is a strong lad.
?The road stage was all really fast. There were people wanting to go away but it was too fast for many,? he explained.
?With about 10k to go it finally split and we just about worked together enough to stay clear. I waited until Rob had had a go at the front and them attacked, and just held it to the line.?
Second in the Premier Calendar heading into the event, Rapha Condor-Recycling team leader Dean Downing struggled to make an impact with 22nd in the time trial, and 11th on the road stage.
As the riders prepare for Sunday?s final stage Russell Downing leads by 14 seconds from Higgins, while Rob Hayles, who was sixth in the first road stage, is third, 19 seconds behind his Pinarello rival.
Chas Messenger Memorial.- Stage one (5km TT).-
1 Rob Hayles (Team Halfords Bikehut) 6-37
2 Tony Gibb (Plowman Craven RT) 6-46
3 Russell Downing (Pinarello RT) 6-50
4 Matt Higgins (Team Corley Cycles) 6-52
5 Kristian House (Rapha Condor-Recycling) 6-53
6 Marcin Bialoblocki (Sports Beans-Willier) 6-55
Stage two (120km RR, East Claydon).-
1 Russell Downing 2-51-05
2 Matt Higgins at 7sec
3 Evan Oliphant (Plowman Craven RT) same time
4 Simon Holt (Rapha Condor-Recycling) at 12sec
5 Matt Cronshaw (Kinesis UK) at 13sec
6 Rob Hayles at 17sec
Overall (after two stages, incl time bonuses).-
1 Russell Downing 2-57-40
2 Matt Higgins at 14sec
3 Rob Hayles at 19sec
Thank you for reading 5 articles this month* Join now for unlimited access
Enjoy your first month for just £1 / $1 / €1
*Read 5 free articles per month without a subscription
Join now for unlimited access
Try first month for just £1 / $1 / €1
Snowdon Sports is a long-established independent sports news agency, which supplies editorial to a range of media outlets - such as Cycling Weekly - as well as sports governing bodies. Snowdon Sports often covers results at Cycling Time Trials events in the UK and has long been a source of information and imagery to Cycling Weekly.