SAUNIER DUVAL AIMS FOR SUCCESS WITH YOUNG TEAM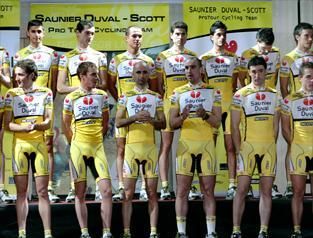 David Millar and Saunier Duval have gone their separate ways for 2008, but as they face their fourth season in the ProTour the Spanish squad are adamant there were no hard feelings over Millar?s departure.
?We wish him the very best with his new team,? manager Mauro Gianetti told Cycling Weekly?s website during their team presentation on Saturday. ?We feel proud of having helped bring David back into the world of cycling. It was never going to be easy for him, but he managed it.?
Following his ban for EPO use, Millar signed with Saunier Duval in 2006, winning a Tour of Spain stage in Cuenca that year. In 2007 he won the British national road and time trial titles and the prologue of Paris-Nice.
?It was normal that David moved on because he?s not just a rider in Slipstream, he?s also part-owner of the team,? Gianetti added. ?So it made sense that he should want to leave Saunier.?
The smallest team in the ProTour in terms of their budget - reported to be slightly over six million euros (4.5 million pounds) - nine riders have left Saunier, including Millar, double Giro winner Gilberto Simoni and Spanish sprinter Fran Ventoso.
However, Saunier have re-signed up-and-coming Italian Ricardo Ricco, sixth in the 2007 Giro and second in the Tour of Lombardy. Never scared of sticking his neck out, the 24-year-old Ricco says that in 2008 he wants to win ?Fleche, Liege, and the Giro.?
?I?ll be taking things a little more easily in the early part of the season, not like in 2007 when I won two stages of Tirreno,? Ricco told Cycling Weekly. ?But from April through to June I want to be in top condition. Then I?ll do two weeks of the Vuelta as part of my build-up for the World?s. But the Tour will have to wait until 2009.?
Saunier boss Gianetti was adamant that despite having a line-up with just one big name - Ricco - and that one big name showing no interest in the Tour in 2008 they would have no problems getting a start in cycling?s biggest race.
?We?ve got some good Spanish stage racers in our line-up who will be targetting the Tour, and we?re the ProTour team with the second youngest average age for our riders. Like the Tour, Saunier are looking to the future.?
Thank you for reading 20 articles this month* Join now for unlimited access
Enjoy your first month for just £1 / $1 / €1
*Read 5 free articles per month without a subscription
Join now for unlimited access
Try first month for just £1 / $1 / €1