Saxo Bank founder calls for Tinkov to resolve Riis situation
Lars Seier Christensen has even offered to mediate a meeting between Bjarne Riis and Oleg Tinkov after the Dane's apparent suspension from Tinkoff-Saxo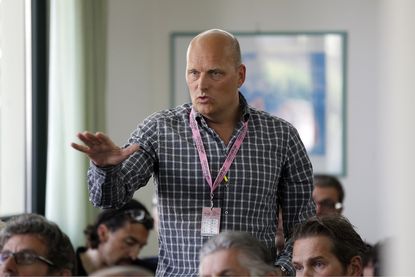 (Image credit: Watson)
The co-founder of Saxo Bank has urged Oleg Tinkov and Bjarne Riis to resolve the management crisis that currently engulfs the Tinkoff-Saxo team.
Reports in Danish media on Sunday claimed that Riis had been suspended from his role as team manager by Tinkov, while a team statement on Monday denied a suspension but confirmed the Dane was not involved in team activities.
Now, Lars Seier Christensen, co-founder of the Danish bank that backs Tinkoff-Saxo, is calling on all parties involved to settle their differences; even offering to mediate if necessary.
>>> Oleg Tinkov demanding better results from Riis and Tinkoff squad
In a statement on Facebook, Christensen claims he wasn't consulted about the situation.
"I obviously respect that as the owner of the team, Oleg (Tinkoff) is entitled to make the arrangements that he wants to, but I would also like to emphasize that Bjarne Riis' proven leadership is a significant driver behind Saxo Bank's sponsorship of the team throughout eight seasons," he wrote.
"I have spoken with the parties involved and my assessment of the situation is that I find no reason why this matter cannot be resolved under amicable conditions if the desire is there.
"I urge Oleg, Bjarne and the team management to support this process as we can all agree that the most important thing for the moment is to think about the team and the riders as a whole."
Thank you for reading 20 articles this month* Join now for unlimited access
Enjoy your first month for just £1 / $1 / €1
*Read 5 free articles per month without a subscription
Join now for unlimited access
Try first month for just £1 / $1 / €1