Schlecks vying for victory in Vuelta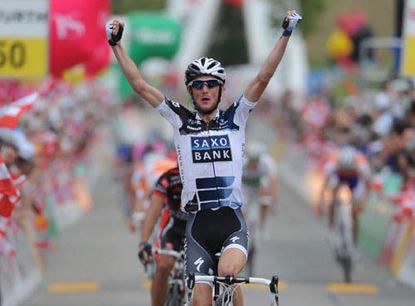 The two Schleck brothers will start the Vuelta a Espana focussed on winning the race outright, but with Frank, not Andy, the biggest candidate for overall victory in Madrid on September 19.
The winner of the Tour of Suisse this June, Frank crashed out early on in the Tour de France, breaking his collarbone on the stage over the dreaded Paris-Roubaix cobbles.
After joining his brother Andy in Paris for Saxo Bank's celebrations of the younger Schleck sibling's second place overall behind Alberto Contador (Astana), Frank says he expects to be in the thick of the race action in Spain. Andy, meanwhile, aims to help his elder brother fight for the Vuelta's red leader's jersey.
"My objective is to win," Frank told Spanish sports daily MARCA on Friday. "I've trained for it and maybe I won't get it, but I'm here to try to win the Tour of Spain."
"I'm here to help him," added Andy, "although I have no idea what level I'll be at. There's no point in lying. In cycling there are no miracles and you can only get that Tour de France form once a year. And I've already had that form."
"If I'm up there in the mountains with the big names, then great. If not, then..."
"We don't know the route as well as the Tour, because we haven't checked out the climbs," points out Frank, "but we know there's lots of mountain stages. The cols may not be as long as the Tour, but they're at least as tough. On paper, that's good for me."
"The third week is the toughest, with a lot of mountainous stages and a time trial of 42 kilometres, That week will be the most decisive."
"I'm lucky in that I'm fresher physically than those riders who completed the Tour."
On paper, then, Frank is more likely to fight for overall victory for the Tour of Spain, although Andy's palmares in three-week stage races is more impressive. In any case, in such a mountainous Tour of Spain, both Schlecks will be in their element - and all the more dangerous for it.
Related links
Vuelta a Espana 2010: Cycling Weekly's coverage index
Thank you for reading 20 articles this month* Join now for unlimited access
Enjoy your first month for just £1 / $1 / €1
*Read 5 free articles per month without a subscription
Join now for unlimited access
Try first month for just £1 / $1 / €1