Sergio Henao 'beyond disappointed' after being withdrawn from racing
Colombian rider Sergio Henao withdrawn from racing after Cycling Anti-Doping Foundation opened investigation into his biological passport values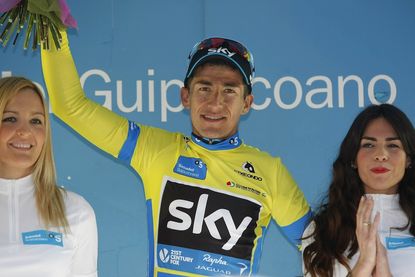 (Image credit: Watson)
Sergio Henao has told of his disappointment at being withdrawn from racing by Team Sky after the Cycling Anti-Doping Foundation (CADF) opened in investigation into his anti-doping biological passport values.
"I am beyond disappointed," said the 28-year-old Colombian via a Team Sky statement on Wednesday. "I have worked incredibly hard to get back to racing fitness after shattering my knee last year - but I know who I am, how hard I have worked and the sacrifices I have made to be where I am today.
"I am calm and confident that this will be resolved soon so I can get back to racing as soon as possible."
>>> Sergio Henao withdrawn from racing by Team Sky as blood values are investigated
Henao endured a period of non-competition in 2014, when his biological passport threw up anomalies in his blood profile. This can indicate the use of banned performance-enhancing products – although there no indication that this is the case with Henao – and Sky commissioned an independent research programme to study Henao's figures.
As Henao lives as altitude in Colombia, the theory is that switching between high and low altitudes during blocks of racing and training can lead to fluctuations in your blood values, eg haemoglobin level. The percentage of oxygen-carrying haemoglobin in blood increases after spending time at high altitude as the body compensates for less oxygen in the air.
"To aid our understanding of Sergio's readings [in 2014], we commissioned a 10-week research programme led by Dr Eddie Hampton, a consultant haematologist from the University of Sheffield, with other independent scientific experts," said Sky.
>>> Sergio Henao returns from broken knee at Settimana Coppi e Bartali (March 2015)
"This programme involved further randomised blood and urine tests at sea level and altitude, undertaken through WADA accredited laboratories.
"After completing their research, the experts had the highest level of confidence that the readings which prompted us to undertake further testing were the athlete's normal response to altitude. As a result, Sergio returned to racing with Team Sky in June 2014."
According to Sky, CADF are looking at Henao's blood figures relating to the period August 2011 to June 2015.
Henao's withdrawal from competition meant that he did not take part in Wednesday's La Flèche Wallonne, reducing Sky's squad from eight to seven riders. Previously, this season Henao looked as though he was returning to top form after suffering from a broken kneecap at the 2014 Tour de Suisse, with podium appearances at the 2016 Tour Down Under and Tour of the Basque Country.
Watch: Inside the Team Sky training camp
Team Sky principal Sir Dave Brailsford made it clear that the team is supporting Henao as his case is dealt with.
"We believe in Sergio. He has just come back to full fitness after spending eight months recovering from a potentially career-ending crash. But we respect the CADF process and will apply our team policy in the circumstances.
"We will continue to support him fully during this period so he can get back to racing as soon as possible."
The Athlete Biological Passport (ABP) system was introduced by cycling's governing body, the Union Cycliste Internationale (UCI) in 2008 to detect fluctuations in riders' blood and urine sample values. The system is designed to detect any anomalous peaks or troughs in, for example, red blood cell count or hormone levels over a long period of time that could indicate doping.
CADF undertake an anti-doping programme for professional cycling on behalf of the UCI.
Thank you for reading 20 articles this month* Join now for unlimited access
Enjoy your first month for just £1 / $1 / €1
*Read 5 free articles per month without a subscription
Join now for unlimited access
Try first month for just £1 / $1 / €1