Shane Sutton: The Big Interview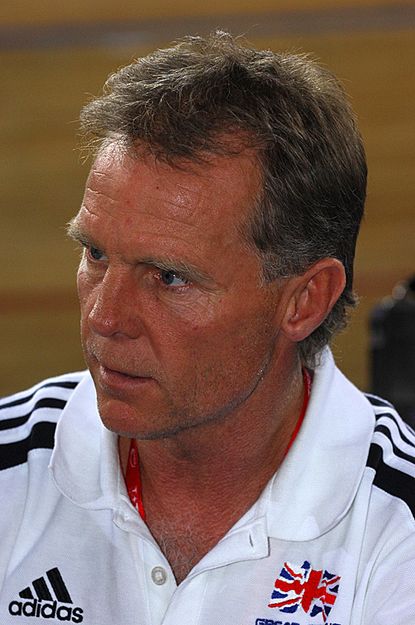 Shane Sutton is the 51-year-old British Cycling coach who swapped the territory of his birth, New South Wales, for his adopted home of South Wales.
A gold medallist in the team pursuit at the Commonwealth Games in 1978, he moved to Britain in the early 1980s and raced as a professional for a clutch of domestic teams, including PMS and Banana-Falcon. In 1987 he rode a couple of weeks of the Tour de France for ANC-Halfords. His biggest win was in the 1990 Milk Race.
As a coach he worked with the Welsh Cycling Federation and has become an integral part of British Cycling?s coaching set-up. He now calls Wales home and admits that his children are more British than Aussie and even goes as far to say he?s a Welsh supporter when it comes to rugby. However, he says there?s one thing he?ll never do, and that?s back England at cricket. That would be a step too far.
CW: Now the post-Olympic excitement has died down, are you able to pinpoint one particular highlight?
SS: Every day was a highlight, the whole experience was special, but if you really put me to the sword, the one thing that got to me more than anything else was seeing Vicky [Pendleton] win. We?ve been to hell and back in the past, Vic and I. There?s been some hard days when she wanted to walk away from the sport so to see her win really got to me. I don?t get emotional that often, but you?ve got to remember she had only one chance to win and her event was at the end of the track programme after all that success. That makes what she did phenomenal. Okay, so it wasn?t me holding her up on the track but it?s been quite a journey for me and Vic.
CW: Back in Australia you got a fair bit of stick from a pair of radio DJs for helping the Poms win all those gold medals. What was all that about?
SS: Yeah, I heard about that. They wanted me extradited and executed! I must have been doing something right then. I was Aussie born, but I?ve been here 25 years, my kids are British. They can say what they like, but I have a lot of admiration for the Aussies and without them we wouldn?t be where we are today. When we first looked at the Academy set-up, we looked at what the Aussies were doing. Their coach Shane Bannan was instrumental in how we did that. Five, six years ago the Aussies dominated on the track. They raised the bar and it was there to be jumped. They set the standard, now we?re setting the standard.
CW: What?s the secret to the success then?
SS: Everyone is looking for one thing that we do, but there isn?t one thing. At the end of the day, it?s about having a generation of extraordinarily talented athletes available and putting the support and coaching system around them. One thing no one has picked up on yet is that in our coaching set-up we tend to pair a sports scientist with a talented bike rider. For example, you?ve got Iain Dyer, the sprint coach, who knows more about sports science than the rest of us put together, and then you?ve got Jan Van Eijden, one of the world?s best sprinters in his day. You?ve got Matt Parker, a great coach, and Simon Cope, who was a good bike rider. You?ve got Darren Tudor and you?ve got Rod Ellingworth, who I believe will become one of the world?s greatest endurance coaches. After Athens we said to Rod ?We want you to bring through two athletes in time for Beijing?. Well, when we got to Beijing, he?d given us six. It?s crazy what he?s done. I?ve probably been one of his harshest critics at times but Rod is an amazing coach.
CW: Now Heiko Salzwedel is coming back, too?
SS: I am really, really excited about that. I have as much respect for him as I have anyone in the world. You prove the worth of someone or something with evidence and Heiko has proved he?s one of the best in the world with all his work with the Aussies. There?s that great generation of the McEwens and the Matty Whites and the Vogels and of late he?s done a remarkable job with the Danes. In some ways he?s got a lot of unfinished business here. There?s no real job title at the moment but he?ll be a key part of the coaching set-up. He?ll help me look after the World Cups this winter and then we?ll sit down and work out exactly what role he?ll take.
CW: What?s your new role going to be?
SS: My job is changing. You know the Games were a pretty stressful place to be and I could have done a little better coping with that stress. I am going to spend the next year working on a management programme with Steve Peters [British Cycling?s psychologist] so that we can develop a method of coaching that will enable us to get our message across in a more relaxed manner. You know Dan [Hunt], Matt [Parker], Rod [Ellingworth], all these guys have such passion, but it?s important we can keep in control and deliver the message in a clear fashion. I am going to buy into that management style so that we can all feel calm under pressure. It has to be carrot, not stick. If we can become better people, we can provide a better programme.
CW: Keeping cool under pressure, is that something you have struggled with?
SS: I have found that at times. I have been a little bit harsh at times. That?s not to say it didn?t work. That method works in some areas and perhaps disheartens others. Perhaps I didn?t get my message across as well as I could have done.
CW: Do you have to tailor your approach according to the rider you?re dealing with?
SS: Some need an arm round them, others respond to a bit of a talking too. But what you?ve got to remember is that they are all under immense pressure. When you are training for four years for one shot at Olympic gold, can you imagine what that it like? People talk about the way Bradley Wiggins acts once in a while. They read that he liked a drink or what have you, but has anyone put themselves in Bradley Wiggins?s shoes and lived a couple of days in his life? Or Chris Hoy? Or Vicky Pendleton? Chris can?t buy a sandwich these days without it taking him 20 minutes and you?ll never meet a finer gentleman, but he?s living under a lot of pressure. There are going to be difficult moments at time, but it?s about how we deal with them and help them. I know I wouldn?t last two days under the pressure Bradley and some of these guys are under. Steve Peters is the hub of the wheel at British Cycling, no doubt about it, and he does some remarkable work with the athletes, but as coaches, we need to be able to help them deal with the pressures too. Steve says we?re a family, from the top right down to the canteen staff, the accountants the receptionists.
CW: There are a lot of rumours about the proposed professional road team flying around.
SS: The pro team hasn?t been announced yet but it?s moving in the right direction. We set off in this direction some time ago and everyone knows what we want. We got the Sky+HD team on the track and as I understand it road negotiations are ongoing. Whether that?s Sky or not, we?ll have to see, but at the moment it?s definitely not a ?no? from Sky.
CW: In the meantime the Halfords Bikehut team is shifting focus and the men?s team is expanding. We had expected you to play a role in that.
SS: I?ll be keeping an eye on it but I won?t be doing the day-to-day. We?ve brought in Keith Lambert for that. Everybody who?s ever worked with Keith realises the quality this guy has. His knowledge of cycling is unmatched. He?s not a sports scientist but he?s a man-management and he can get the info across. He reads the GC [general classification] sheet better than most and he?s tactical nous beyond belief. We have used Keith over the last few years to take a team to the Junior Tour of Ireland and other places and everyone comes back and says what a great experience they?d had, so we wanted to find a role for him.
CW: And it gives riders like Andy Tennant and Mark McNally, who are leaving the Academy, a chance to progress.
SS: You shouldn?t think of this as a second chance. This isn?t us going ?Ah, mate, you didn?t get a pro contract, here you go, have another chance?. This is a proper team with a serious programme and it is also a golden opportunity for young riders to continue to progress. At the moment we haven?t got a pro road programme as such, but this means we can keep talented young bike riders in the frame and show Andy that there is another door to come through if they don?t get a pro contract at 20 or 21. In 12 months? time, Tennant could be pursuiting at 4-20 pace and we?ll know about it. It means we don?t lose this talent because they haven?t managed to get a place at CSC or whatever.
CW: A couple of years ago you led the British Cycling trip to the Etape du Tour. We understand you?ll be playing the role of chief motivator again next year.
SS: That was great fun. We took Chris Hoy and Jason Queally and some of the coaches. If we?re doing this pro team it?d be great to take our future sponsors out there to experience a little bit of what it?s all about. As I say, until you?ve done it, you don?t know what it?s all about. Dave B sent me a text the other day saying he was going to kick my arse in the Etape. I replied ?You?ve always been a dreamer?. It energises a lot of us because it can be a bit of fun. The pressure someone like Dave is under is unbelievable so if he can focus on his own training it is good for him.
CW: Is there any aspect of British Cycling?s approach that a club rider could adapt to improve their own riding?
SS: A lot is made of the aggregation of marginal gains. The thing is, the key is the athlete and their approach. Don?t get me wrong, we have good technology but the goal was never to surpass the rest of the world in terms of technology. It was to make it a level playing field so that our guys never looked across the track at an opponent and felt like they were at a disadvantage. In doing so, we probably did get ahead of the rest in terms of technology. But that means nothing if you don?t have the athletes. So for a club cyclist, I?d say the first thing is to set your goal and believe you can do it, then set about working as hard as you can to achieve it.
CW: Are you worried the rest of the world is going to lose interest in track cycling because of the British dominance?
SS: After Athens, when the Australians won five golds, did the rest of the world say: ?ah, let?s give up?? No. they said ?right, that?s the bar, let?s jump it?.
I?d like to think the French, the Germans and the Aussies are going to try to jump the bar we?ve set. Look, we didn?t get here overnight. We didn?t just wake up and win a load of gold medals, we worked and every step of the way we wondered if we could get any better, and it was by striving to get better that we managed to do what we did. After the Worlds in LA [2005] we said ?We?ll never top this? and then we said the same in Palma [2007] and again in Manchester this year. The thing is, we?re on a roll, and when you?re on it, you just have to keep rolling. It?s up to the rest of the world to catch us.
Oh it?ll never be done. Oh we?ll never have a world?s like this again. Majorca. We?ll never do this again, then we go to Manchester
Once you are on a roll, you?re on a roll. We can?t stop our roll, it?s up to the rest of the world to catch us up.
Thank you for reading 20 articles this month* Join now for unlimited access
Enjoy your first month for just £1 / $1 / €1
*Read 5 free articles per month without a subscription
Join now for unlimited access
Try first month for just £1 / $1 / €1