Shimano develops innovative test to ensure its parts will work in UK conditions (video)
Riding into a swimming pool is one way to check your gears work in the rain...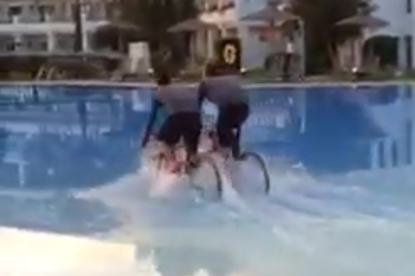 It's no secret that we have our fair share of rain in the United Kingdow, with much of the north of England and Scotland still recovering from the effects of Storm Desmond.
For us cyclists that means we've got to know that our bikes and components can face up to the rigours of riding in such changeable weather, but luckily Shimano has our backs.
>>> Six things no one ever told you about Shimano Di2
Triathlete duo Romain Guillaume, of France, and Scotland's David McNamee tweeted a video of themselves doing this rigourous testing, which involved riding their lovely BMC triathlon bikes into a large swimming pool.
Success! We don't have to worry about the rain getting in our Di2 any more, these guys have got it all sorted out.
>>> Shimano creates special rainbow shoes for world champion Kiryienka
Obviously Shimano has a few more rigorous tests up their sleeves to ensure their components work under the most extreme pressures, so these triathletes' experiments probably aren't fully representative of the full testing process. But it's fun, nonetheless.
Thank you for reading 20 articles this month* Join now for unlimited access
Enjoy your first month for just £1 / $1 / €1
*Read 5 free articles per month without a subscription
Join now for unlimited access
Try first month for just £1 / $1 / €1