Snow and ice affect inaugural Tour de Nock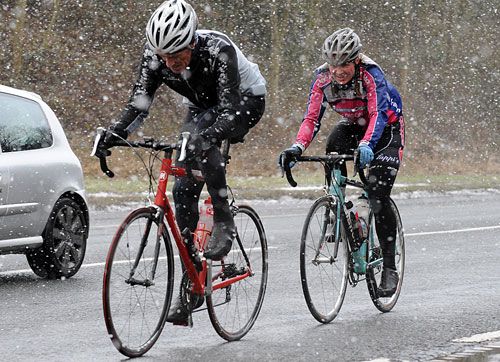 Ice and snow didn't deter the
hardy souls that turned out for inaugural 'Tour de Nock' reliability trial from Rugeley in Staffordshire.
Organised by Simon Harvey of Peloton Cycles and pro-cyclist Dan Fleeman of Team Raleigh, the event was originally conceived to consist of a testing 60-mile route, including a loop around Cannock Chase.
Sunday dawned to ice and a dusting of snow which did put off a good number from turning out to what should have been a good early-season work-out for those with later season targets in mind.
For the seventy or so riders that did sign on for the ride it was decided a straight out and back route along the A51 was the safest option under the circumstances.
The main road route of around 40 miles worked out okay in the end, though there were some heavy snow flurries to contend with along the way.
Once back at the ride HQ at the Lea Hall Colliery Welfare Sports and Social Club in Rugeley, there was the usual cycling banter over tea accompanied by biscuits and cake.
The raffle and entry fees for the event raised £500 for the Queens Hospital Orthopaedic department and the Midlands Air Ambulance.
Riders head off from Rugeley, Staffordshire
Road conditions lead to the event being shortened
Wintry showers punctuated the ride
Event co-organiser Dan Fleeman
Group three head for home
Welcome sight: Tea and biscuits at the end
Related links
Ride with Raleigh
Raleigh team strengthened with signing of Fleeman
Dan Fleeman: Rider Profile