Spin London cycle show returns for 2015
Spin London's celebration of contemporary cycling culture hits a new venue for 2015 over May 8-10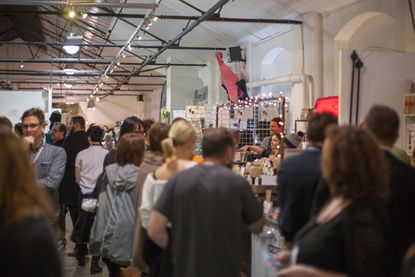 (Image credit: Spin London)
Three-day cycling festival Spin London returns for 2015 promising to be bigger than ever and at a new venue. Rather than just a show of the latest shiny bikes and accessories, Spin London is more a celebration of cycling culture, bringing in elements of cycling-influenced art as well as talks, films and activities.
The Sorting Office, WC1, is the new venue for the event over May 8-10, with its increased floor space allowing the event to host a large indoor test track on which to try out bikes and set a timed lap.
Bike frame builders get a chance to show off their skills in the 'Hall of Frame', so you can witness first-hand a collection of tubes, lugs and solder take shape into a working bicycle.
In addition there are galleries, talks, film screenings and a Rollapaluza roller competition. The list of exhibitors includes Rapha, Bobbin Bicycles, Saffron Frame Works, Moulton, Pilgrim, Donhou and many more.
Spin London takes place at the Sorting Office, 21-31 New Oxford Street, London, WC1A 1AP from Friday, May 8 to Sunday, May 10. Tickets cost £10 for a day, or £15 for the whole weekend.
For more information and online ticket booking, visit the Spin London website.
Thank you for reading 20 articles this month* Join now for unlimited access
Enjoy your first month for just £1 / $1 / €1
*Read 5 free articles per month without a subscription
Join now for unlimited access
Try first month for just £1 / $1 / €1