Sportives are for boys says the man with 900,000 miles under his belt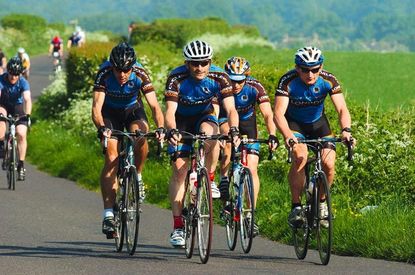 Get The Leadout Newsletter
The latest race content, interviews, features, reviews and expert buying guides, direct to your inbox!
Thank you for signing up to The Pick. You will receive a verification email shortly.
There was a problem. Please refresh the page and try again.
The first of the big tours is on the road, the sportive season is underway and every entrant aims to go the distance.
Cue for an update into the goings on in the world?s most exclusive cycling group ? the 300,000 Milers Club!
There are 69 members and when 10 of them sat around the table for the club?s annual dinner at Stow on the Wold they had, between them, clocked up over five and half million miles!
Chief mileage eater is 72-year-old Chris Davies (CCP), whose ride to the dinner took his total past 900,000, since he began keeping records in 1950. Not far behind is Pat Kenny on 870,000.
How does anyone cover such great distances?
It all kicked off for a youthful Davies with a 6.5-mile ride for a swim at Hayling Island.
He uses his bike as transport, as well as for pleasure. So if it?s a nice day and he goes shopping, he?ll go the extra mile to a shop in the next neighbourhood.
?I became hooked on turning the pedals from commuting in and out of Portsmouth for most of my working life,? says Davies who lives in Havant.
Quite simply he loves cycling to bits and his enthusiasm for cycling takes him all over the country, across Europe and in the past, around the globe. A contented man and is bike, when answering his phone he prefixes his greeting with: ?Happy Havant??
The big distances came from leisure rides, competitive riding at distances up to 24 hours at home and abroad, and completing randonées including the most famous of them all, the 1,200 kilometre non-stop Paris-Brest-Paris! He first rode that in 1975 and has completed it three times in all.
Davies helped form Audax, the UK long-distance cycling body that promotes events that leave many of today?s sportives in the shade so far as distance is concerned.
?They?re boys? events, sportives, aren?t they,? declares Davies playfully.
A replacement hip operation in 2001 kept him out of the saddle for 39 days. The surgeon made it up to him by giving him a titanium hip and it was soon put to work.
In 2005, Davies marked his 50th consecutive year of five figure mileages with a monster ride that was guaranteed to get press coverage in the naval base of Portsmouth. He decided he?d celebrate the 200th anniversary of Lord Nelson?s victory at Trafalgar by riding from Cape Trafalgar at Cadiz in Southern Spain to Trafalgar Square in London! Took him 22 days to cover the 2,000 miles.
As Davies puts it, he continues to enjoy life behind bars ? handlebars! ?I have no plans to stop just yet, but a million miles might be just beyond my range.?
Well done, CCP, reader of this journal for 60 years!
Thank you for reading 20 articles this month* Join now for unlimited access
Enjoy your first month for just £1 / $1 / €1
*Read 5 free articles per month without a subscription
Join now for unlimited access
Try first month for just £1 / $1 / €1
Get The Leadout Newsletter
The latest race content, interviews, features, reviews and expert buying guides, direct to your inbox!
Keith Bingham joined the Cycling Weekly team in the summer of 1971, and retired in 2011. During his time, he covered numerous Tours de France, Milk Races and everything in-between. He was well known for his long-running 'Bikewatch' column, and played a pivotal role in fighting for the future of once at-threat cycling venues such as Hog Hill and Herne Hill Velodrome.