Stans new Avion wheelset is designed for road, gravel and cyclocross
Stans No Tube's new Avion wheelset is a road-specific disc braked design with a lot of new technology in the rims and hubs.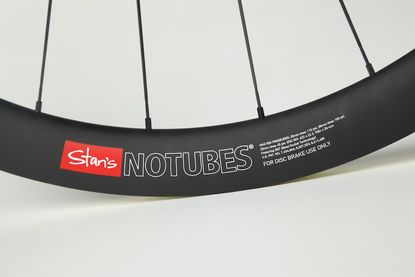 Stans No Tubes is a brand which started off offering tubeless rims for mountain bikes, but its road range has expanded significantly in recent years with the new Avion wheelset being its most technical road offering yet. It's designed for use on disc braked road, gravel and cyclocross bikes.
Watch our aero wheel buyer's guide
The Avion's rim is all-carbon and has a U-shaped aero profile. It is 40.6mm deep and it's wide at 28mm external and 21.6mm internal, following the trend to wider tyre stance to increase stability and offer a suitable support for wider tyres: from 25mm to 40mm.
It uses Stans (opens in new tab)' BST-R rim profile which is designed to support narrower tyres run at higher pressure than mountain bike tyres. In addition, it has Stans' Radial Impact Absorbing Carbon Technology, designed to add some radial flex to the rim and help with shock dissipation on rougher surfaces.
>>> Should you be riding U-shaped deep section rims?
The wheels are laced with 28 two-crossed J-bend Sapim spokes to Stans' Neo hubs. Stans has only recently ventured into manufacturing its own road hubs, with the Neo being a single-piece aluminium design with six-bolt disc mounts. The Avions come in two versions: the Pro uses Neo Ultimate hubs, which have 5 degree engagement and Sapim's top CX Ray spokes, while the Team version uses the lower spec Neo hubs with 10 degree engagement and Sapim CX Sprint spokes.
The Neo hubs are built with oversized stainless steel bearings and both wheelsets come with adaptors for quick releases or thru axles and Shimano/SRAM, Campagnolo or SRAM XD cassette bodies are available.
Here's a video of the new wheels in use:
http://www.youtube.com/watch?v=DZRVG0xYY3w
All this technology doesn't come cheap, with importers Paligap (opens in new tab) selling the Avion Pro at £1895 and the Team at £1495. Both come with a two year warranty and three year crash replacement though and are pre-fitted with rim tapes and tubeless valves.
Thank you for reading 10 articles this month* Join now for unlimited access
Enjoy your first month for just £1 / $1 / €1
*Read 5 free articles per month without a subscription
Join now for unlimited access
Try first month for just £1 / $1 / €1