Should you be riding U-shaped deep section rims?
With the changing shape of aerodynamic rims, Stuart Clapp examines if the shift to wider wheels spells the end for the old-school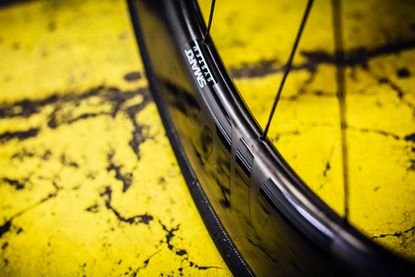 When aero wheels first adorned the bikes of professionals, and rich amateurs, they were not the same shape as they are today. Round, yes, but the similarity ended there.
The material they were made from has changed from alloy to carbon, and along with it, their weight penalty has all but disappeared. In those early years, time triallists ran the risk of being blown into a neighbouring field at the faintest sneeze of a crosswind. Honing the profile of the rim has changed that and made them increasingly easy to live with.
>>> Will wider rims make you faster?
The late — and great — Steve Hed pioneered modern aero wheels. He was the first to look beyond the leading edge of the wheel and realised it is the trailing edge that causes around 40 per cent of the drag and most of the instability.
>>> Disc brakes in the WorldTour: are they necessary on road bikes?
His findings are why modern designs are incorporating broader rims, making wind-cheating wheels as ubiquitous on the club run as in the pro peloton.
Along with Steve Hed's company, HED, brands such as Zipp have also been at the forefront of wheel design. It could be argued its latest U-shaped rim, seen on its dimpled, crosswind defying Firecrest range, has helped reinforce the change.
Find the best aero wheels for you
Wider rims, less resistance
Similarities can be drawn from the Zipp wheels to other fresh aero rims, such as the Orbis II rims from 3T and the new range from Reynolds. The wider rim track creates a smoother interaction
between tyre and wheel, giving more room to run wider tyres for reduced rolling resistance.
>>> It's never too late: taking up racing as a veteran
Paul Lew, technology founder at Reynolds, recently reviewed wind tunnel data he'd collected in 1989 and compared it to wheels produced and tested in 2014. The aerodynamic drag was surprisingly similar. The reason is in the rubber.
Back in those early days, 18/19mm tyres were a popular choice. The rim width was narrower too, around 20mm. So comparatively a modern 25mm tyre on a 26mm rim has similar numbers in the wind tunnel. It's in a crosswind where modern rims prevail.
>>> Are wider tyres really faster?
Maxime Brunand, Mavic's road product manager, says: "V-shaped was the go-to design for the first deep-dish rims. Everyone was focusing on lowering the frontal drag, but as we accumulated
data from wind tunnel sessions, the parameters were challenged.
Tyre integration was a major factor. Narrow has a smaller frontal area, which is good for frontal drag, but we didn't properly integrate the tyre into the equation.
>>> Buyer's guide to road bike tyres (video)
"We eventually discovered that when the rim is slightly wider than the tyre, the frontal area is only slightly bigger, but it offers huge benefits in terms of lateral resistance, so bike handling and stability in crosswind are improved."
Refined, tweaked and bettered to perform more effectively against the laws of physics, it's easier to remain in control on deep rims now, but why are there still companies, including Lightweight, still using the flat sided 'V' design?
Which wheels should you buy?
Our take
There are many factors, such as weight, stiffness, aerodynamics and stability, at play here and it's the blend of all of those different attributes that constitute the best rim. Opting for wider tyres makes sense, especially on pitted UK roads, so to keep the aerodynamics, a wide U-shaped rim is the only answer.
>>> Mavic wheels go U-shaped in the pro peloton
Then there's the improved stability, which makes them more compliant. Evidence suggests that old school V-shaped aero rims will be out the back of the peloton completely before long, perhaps as a result of a hefty crosswind.
Yes: Jason Fowler, product manager, Zipp Wheels
"It's faster in terms of lower aerodynamic drag and has better stability in crosswinds, however not all U-shaped rims perform the same. Rims may look similar to the naked eye, but complex curves on the rims make a huge difference.
"Typically, when you reduce the side force, you increase aero drag. We've been able to maintain the same aero drag while reducing the side force."
No: Chris Hewings, UK sales and marketing manager, Lightweight
"In terms of aerodynamics, the difference between V-shaped and these wider designs is minimal. For Lightweight, there's good reason why we haven't switched. It's because our wheels aren't just the lightest, but also the stiffest, and power transfer in a race scenario is one of the most important parts of our wheel design. This rim profile helps find that balance between those opposing forces."
Thank you for reading 10 articles this month* Join now for unlimited access
Enjoy your first month for just £1 / $1 / €1
*Read 5 free articles per month without a subscription
Join now for unlimited access
Try first month for just £1 / $1 / €1
Founded in 1891, Cycling Weekly and its team of expert journalists brings cyclists in-depth reviews, extensive coverage of both professional and domestic racing, as well as fitness advice and 'brew a cuppa and put your feet up' features. Cycling Weekly serves its audience across a range of platforms, from good old-fashioned print to online journalism, and video.