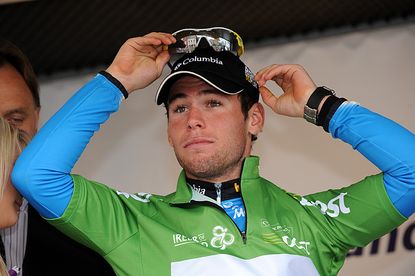 It's a debate that has divided the nation during the past week. Should John Sergeant have quit the BBC?s Strictly Come Dancing or not?
As a former ballroom dancer, Mark Cavendish has a typically forthright opinion on the matter: ?He was hopeless, wasn?t he? I wouldn?t have voted for him.?
Cavendish may not have danced since he was 16 but the cyclist still knows his quick step from his Quick Step.
His mum, Adele, runs a dancewear shop on the Isle of Man and so as a teenager he had a try. It took some persuading but when he realised there was a competitive element, he was up for it. His favoured dances were Latin, the ones which require quick footwork and rapid changes in direction.
Even now, when he catches an episode of the BBC?s programme, he?s got a keen eye on the footwork. That, he says, is where you can spot a natural dancer.
?I can?t watch it,? he says with a smile. ?It?s too frustrating. I mean, how difficult can it be? You see these useless men who can?t dance.
?Even a simple Waltz,? he says, as he demonstrates a neat step in front and then to the side, ?I mean, how hard can it be??
?The guy with dark hair, what?s his name? [Tom Chambers, the actor in Holby City] is good but Austin [Healy, the rugby player] isn?t as good as he thinks he is. His footwork isn?t right.?
Cycling Weekly caught up with Cavendish and his Columbia team director Brian Holm in London last Friday when the subject of dancing came up. Cavendish was as competitive at dancing as he is now on a bike. He hated losing.
?My partner was much better than me, but I worked pretty hard at it and I took it seriously. We travelled to England and we won a few times,? he says. ?People used to make fun, but it was a great way to meet girls.? Cavendish met his fiancée Melissa through dancing, as she was a friend of his partner.
Cavendish swapped the sequined shirt for a cycling jersey with devastating effect. ?One or two riders have taken the mickey but I am not embarrassed at all,? he said. ?[Paolo] Bettini used to dance. I went up to him during the Giro and asked him about it and he thought I was taking the mickey. Then I explained that I used to dance and his face brightened up and we had a little chat.?
So does that mean we can expect to see Cavendish in a future series of Strictly Come Dancing? ?I don?t think they let people do it if they have previous dancing experience,? he says.
What about a one-off special for charity? He grins. He wouldn?t be the first cyclist to take part in a televised dancing show. Mario Cipollini danced in the Italian version, Nico Mattan did the same in Belgium.
And, as Holm points out, Jesper Skibby was the Danish John Sergeant.
?He was terrible,? says Holm of the former professional cyclist. ?Every week he was so bad but the viewers voted for him every time. I went along as a guest in the audience one week and I could hardly watch, it was so funny.?
See Thursday?s Cycling Weekly for news about Mark Cavendish.
RELATED LINKS
Cavendish and Team GB win Observer awards
Thank you for reading 20 articles this month* Join now for unlimited access
Enjoy your first month for just £1 / $1 / €1
*Read 5 free articles per month without a subscription
Join now for unlimited access
Try first month for just £1 / $1 / €1