TALES FROM THE BROOMWAGON: MONDAY, JULY 9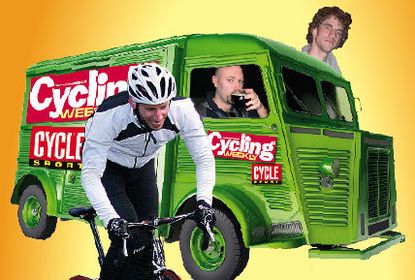 Get The Leadout Newsletter
The latest race content, interviews, features, reviews and expert buying guides, direct to your inbox!
Thank you for signing up to The Pick. You will receive a verification email shortly.
There was a problem. Please refresh the page and try again.
Monday
Day 3 - Gent to Geraardsbergen
Half-wheelers of the world unite. Gert Steegmans is your hero. Steegmans half-wheeled his Quick Step team-mate Tom Boonen over the finish line in Gent - a move which has set back club-run etiquette in Britain half a century.
They'll all be at it now - and worse, they'll think their dirty low-down tactics are acceptable now they've seen a pro doing it. There should be some kind of ASBO issued to all half-wheelers. Either that, or it should be fair game to shove them into a ditch.
Enough of the racing, today the Tour started for real. We collected the vehicle that is to be our home for the next three weeks, the Broomwagon.
Our Belgian photographer Luc has kindly offered to hire his camper van to us and, I have to say, after telling him the state of the wreck we returned to the hire place last year, he is placing tremendous trust in us.
Tales from the Broomwagon veterans will recall that last year's Granduca 67 camper was somewhat flimsy. Just about every cupboard and hinge broke at some point. A table collapsed, the catches on half the overhead cupboards failed, a window fell out, I stood on a seat and it split into matchsticks.
Well, this year's camper not only has a Mercedes Benz engine - and a badge on the bonnet to prove it - but the interior is smarter and sturdier.
But with that comes a duty of care. We may think twice before standing on the seat to reach a high cupboard or park up with one wheel overhanging a canyon.
Astonishingly, given that we had to drive just 50 kilometres from Gent to Geraardsbergen, via Merelbeke, where we picked up the Broomwagon, we almost missed dinner - and would have done had Ed not come to the rescue with some Chinese takeaway.
Perhaps we've allowed ourselves to be lulled into a false sense of security. This year we have Sat-Nav, a television and satellite dish and mobile wifi. Maybe we've allowed ourselves to think that keeping up with the Tour is easy.
Even with the soothing tones of a very middle-class lady telling us when to turn right and left we still struggled to get out of Gent because of the road closures and the fact that we didn't have any official Tour de France stickers on the car to allow us through the road closures.
As we sat at a junction in our right-hand drive car, I got a phone call. As the passenger I was perfectly at liberty to answer it but as I lifted the phone to my ear a policeman standing on the opposite corner waved his hand at me. I carried on talking. The policeman grew more irate and walked towards us. Clearly not recognising the English licence plates or spotting the lack of steering wheel in front of me, he thought I was committing an offence. I even had my feet up on the dashboard which I concede would have constituted reckless driving had I been sitting on the other side of the car.
The policeman's face was getting angrier as he perceived I was disobeying him. It took him an age to realise I wasn't driving.
Simon asked him how to get through the road closure. "If I were you I'd go back into town, have a couple of pints and try again at 10.30 or 11 o'clock."
In summary, then, Belgian police are hot on driving while using a mobile phone but not so concerned about drink driving.
As we arrived at our campsite on the outskirts of Geraardsbergen, Ed was just getting off a train in the town centre, having travelled from London, via Brussels. Realising we had very little chance of getting a taxi back to town and finding a restaurant willing to serve us at 10pm, we asked him to pick up a take-away.
Never has greasy Chinese take away tasted so good. Simon even had the good grace to laugh when I accidentally elbowed half a tray of rice into his open luggage bag. My excuse was that I was taking a while to adjust to the lack of space in the Broomwagon.
THINGS I'D FORGOTTEN I HATE ABOUT CAMPING
* Toilets without paper
* Showers. Too hot, too cold, a feeble dribble of water, having to press a button every 20 seconds when the water cuts out
* The lack of space
* Grumpy campsite staff
* Officious campsite staff. Some immigration forms ask for less information
* The lack of space
THE LOWDOWN
Where we stayed: Camping De Gavers, Geraardsbergen, Belgium.
Rating: 2 tents - clean toilets, reasonable shower, although water oscillated from icy to scolding
What we ate: Greasy take-away chicken chow mein - although that was infinitely preferable to missing dinner
Kilometres driven: 39 (total so far: 39)
THE PREDICTION GAME UPDATE
All three of Simon's men avoid the huge stack and finish in the top ten. Everyone else had at least one faller. Simon's overall lead is now commanding. It's like Lance bloody Armstrong all over again.
Simon 22 points: McEwen 6th, Zabel 7th, Freire 9th
Nigel 193 points: Boonen 2nd, Hunter 4th, Bennati 187th
Ed 266 points: Seb Chavanel 10th, Hushovd 86th, Ventoso 170th
Lionel 355 points: Feillu 5th, Cavendish 166th, Forster 184th
PREVIOUS TALES FROM THE BROOMWAGON:
Sunday, July 8: The day when the Tour went to Kent, and the boys went to Ghent
Saturday, July 7: Three men in a sweaty, underpowered van following the Tour
Friday, July 6: Ignore all other imitations - this is the original Idiots In A Camper Van Tour blog
Thank you for reading 20 articles this month* Join now for unlimited access
Enjoy your first month for just £1 / $1 / €1
*Read 5 free articles per month without a subscription
Join now for unlimited access
Try first month for just £1 / $1 / €1
Get The Leadout Newsletter
The latest race content, interviews, features, reviews and expert buying guides, direct to your inbox!
Sports journalist Lionel Birnie has written professionally for Sunday Times, Procycling and of course Cycling Weekly. He is also an author, publisher, and co-founder of The Cycling Podcast. His first experience covering the Tour de France came in 1999, and he has presented The Cycling Podcast with Richard Moore and Daniel Friebe since 2013. He founded Peloton Publishing in 2010 and has ghostwritten and published the autobiography of Sean Kelly, as well as a number of other sports icons.