TALES FROM THE BROOMWAGON: TUESDAY, JULY 10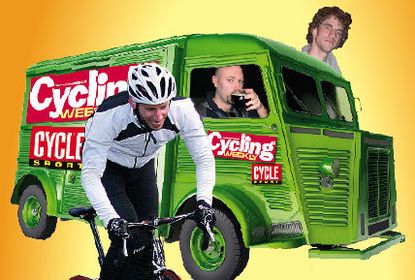 Get The Leadout Newsletter
The latest race content, interviews, features, reviews and expert buying guides, direct to your inbox!
Thank you for signing up to The Pick. You will receive a verification email shortly.
There was a problem. Please refresh the page and try again.
Tuesday
Day 4 - Geraardsbergen - Pierrefonds
Pierrefonds. Would you believe it? Twelve months after our ill-fated stop in Pierrefonds - where we missed dinner and Ed got the hump about it - and we were back.
You may recall that the Night of the Missed Dinner has entered folklore. Basically we arrived late on the night that France were playing in the World Cup semi-final and all the restaurants had shut so they could go and watch the football.
It meant we dined on the only things in the Broomwagon cupboard - stale croissants, triangles of Laughing Cow cheese spread and a ropey bottle of red.
Ed's blood ran cold when we told him we'd booked to stay in Pierrefonds again. We reasoned that it was the perfect place to stay as it was exactly halfway between Compiegne, the finish of today's stage, and Villers-Cotterets for the next start.
We resolved to ensure we got to Pierrefonds in plenty of time.
So, it felt like some kind of sick joke on the part of the peloton that they decided to go slow for the day, quickly slipping more than an hour behind schedule.
The crowd where we watched the race quickly grew restless. Many of them had been on the roadside since late morning and the excitement of the publicity caravan, which passed a good two hours before the race finally arrived, quickly died down.
There was plenty of fidgeting and checking of watches. Many just settled back into their chairs and tucked into the left-overs from their lunchtime picnics.
Still they waited until, eventually, two Frenchmen rolled past - it would be inaccurate to say 'raced past'.
Then the bunch pootled by, greeted by warm but not exactly enthusiastic applause.
After all, in Landrecies, where we were, there were farms to be tended. Those cows don't milk themselves you know.
We sat in traffic for an hour, then tried - to no avail - to find a cafe in Soissons to watch the finish on television. One place, sponsored by the bookmaker PMU, which also sponsors the green jersey, had plenty of tellies, but none were showing the Tour - only horse racing.
And so to Pierrefonds, which was much more picturesque than either Ed or I remembered. "I don't know what you were moaning about, it's a lovely town," Simon said.
It was indeed - and it was all the more lovely for the fact that the Restaurant des Etrangers - which resolutely turned us away last year, though let's not be churlish about things now - supplied a four-course meal.
As if to compensate and restore Pierrefonds' reputation, Ed then headed to a cafe overlooking the lake to eat a waffle with hot chocolate sauce.
That makes the Broomwagon and Pierrefonds all square. Maybe we'll return in future for round three.
THE LOWDOWN
Where we stayed: Municipal de Batigny, Pierrefonds
Rating: 1 tent - basic
What we ate: Steak and dauphinoise potatoes with a bottle of red from Bourgogne, at the Hotel des Etrangers in Pierrefonds
Kilometres driven: 258 (total so far 297)
THE PREDICTION GAME UPDATE
Ed is off the mark with his first stage win, leaving Lionel as the only player yet to record a stage win. Simon is still showing what an expert he is, leading by a massiv number of points. Lionel has been outed as a bad loser par excellence as the others console him with phrases like, don't worry, it's all to play for (a big fat lie, he's out of contention and he knows it).
Ed 22 points: Zabel 2nd, Hunter 5th, Feillu 15th
Simon 25 points: Forster 6th, McEwen 7th, Hushovd 12th
Nigel 41 points: Boonen 4th, Seb Chavanel 13th, Pozzato 24th
Lionel 49 points: Eisel 8th, Haussler 10th, Freire 31st
PREVIOUS TALES FROM THE BROOMWAGON:
Monday, July 9: Half-wheeling, grumpy campsite staff and greasy takeaways
Sunday, July 8: The day when the Tour went to Kent, and the boys went to Ghent
Saturday, July 7: Three men in a sweaty, underpowered van following the Tour
Friday, July 6: Ignore all other imitations - this is the original Idiots In A Camper Van Tour blog
Thank you for reading 20 articles this month* Join now for unlimited access
Enjoy your first month for just £1 / $1 / €1
*Read 5 free articles per month without a subscription
Join now for unlimited access
Try first month for just £1 / $1 / €1
Get The Leadout Newsletter
The latest race content, interviews, features, reviews and expert buying guides, direct to your inbox!
Sports journalist Lionel Birnie has written professionally for Sunday Times, Procycling and of course Cycling Weekly. He is also an author, publisher, and co-founder of The Cycling Podcast. His first experience covering the Tour de France came in 1999, and he has presented The Cycling Podcast with Richard Moore and Daniel Friebe since 2013. He founded Peloton Publishing in 2010 and has ghostwritten and published the autobiography of Sean Kelly, as well as a number of other sports icons.