TALES FROM THE BROOMWAGON: TUESDAY, JULY 17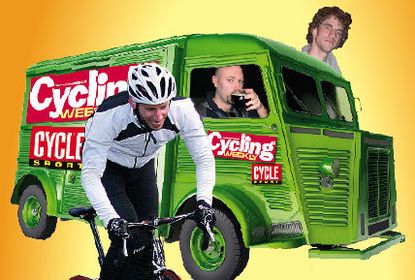 Get The Leadout Newsletter
The latest race content, interviews, features, reviews and expert buying guides, direct to your inbox!
Thank you for signing up to The Pick. You will receive a verification email shortly.
There was a problem. Please refresh the page and try again.
Day 11
Tuesday
Naturally it was tempting fate to comment on how smoothly things had been going. As we descended the climb from Tignes a light on the dashboard came on. It was a circle with black lines flanking either side. "What do you reckon that means?" asked Simon, who was driving.
I wasn't sure but one thing I did know was that lights on dashboards rarely mean "Hey, it's me, I'm fine, just saying hello!"
I rang Luc, our Belgian photographer and owner of the Broomwagon.
"The manual is under the seat. It probably means there's a problem with the brakes. Don't worry too much, give me a call back if it doesn't go out," he said.
Driving down steep Alpine road in several tonnes of metal knowing that the brakes may or may not be on the blink was a little troubling, despite Luc's relaxed assessment.
The light came on and then went out all day as we drove a long, long way, from Tignes to Aix-en-Provence. The Tour's ninth stage was heading to Briancon, a town consisting of very narrow streets and tucked away in a very awkward part of the Alps. Had we gone there we may well have not managed to get out until Friday. We also had to get Tom Simpson, our photographer, to Marseille airport.
It was hot, so very hot, almost 40 degrees and neither Simon nor I were in the mood for long stints of autoroute driving. We kept stints behind the wheel to a manageable hour-and-a-quarter. We stopped at a service station for lunch.
Now, ten years ago, French service stations were far, far superior to British ones. In the past decade the unthinkable has happened and Britain, with its Welcome Breaks and Costa Coffees is now preferable to the fly-ridden cesspits on French motorways.
Even a good service station is still a depressing place, designed to erode away your soul from the inside so you don't notice how awful the food is. Everyone is there by necessity rather than choice.
Our meals were stunningly inedible. Tom's Toulouse sausage looked like it had walked up from Toulouse by itself. Simon and I opted for the penne bolognaise and my initial indignation that the serving slave had been so tight with the portion of sauce turned to relief when I actually tasted it.
Bellies full but spirits plunging we ploughed on, scorching kilometre after scorching kilometre. Kamikaze lorry drivers from the Czech Republic, Poland and Italy doing their best to wipe us off the road.
We arrived at our campsite on the outskirts of Aix-en-Provence in time to watch the stage finish in what was effectively a laundry room with a television in it. Oh the glamour. The Tour de France felt about a million miles away, although we were sure that our strategy of getting ahead of the race by half a day would pay off.
In the late afternoon, I headed to the town centre to meet Ed, who had flown in to Marseille and caught a bus, a step up in his choice of transport after he apparently hitch-hiked from Chateau-Chinon to Nevers last week at the end of his first tour of duty.
Simon went on a wild goose chase to do some laundry and buy some swimming trunks while Ed and I had a beer in Aix and marvelled at the fact that the two waiters at the Hotel des Deux Garcons looked just like Miguel Indurain - with his post-retirement longer hair - and Carlos Sastre.
Simon finally arrived in the town centre at 9.30, having failed to find any swimming trunks except in a designer boutique where they were asking 100 euros for them.
Eventually, at around 10pm, we ate. It seems that, whichever way you cut it, no matter what time the working day finishes, the law states that anyone covering the Tour in a camper van cannot eat before ten.
Our taxi driver told us the forecast for the next week is 35 degrees every day. Our stamina and patience is about to be tested to the full.
THE LOWDOWN
Where we stayed: Camping Chantecler in Aix-en-Provence
What we ate: Provencale lamb in La Bastide du Cours in Aix-en-Provence
Kilometres driven: 445 kilometres (total so far: 1,799km)
PREVIOUS TALES FROM THE BROOMWAGON:
Sunday, July 15 and Monday, July 16: Dramatic scenery, flouro shades and cooking your own meat
Saturday, July 14: Fame, fortune and scouring grassy verges
Friday, July 13: Hogged by a sycophantic French television reporter wearing a blue linen jacket
Thursday, July 12: Nearly a week done already. And nothing's gone wrong
Wednesday, July 11: As days following the Tour de France in a lumbering camper van go, Wednesday was about as close to perfect as you can get.
Tuesday, July 10: Back to Pierrefonds, scene of the great missing dinner disaster
Monday, July 9: Half-wheeling, grumpy campsite staff and greasy takeaways
Sunday, July 8: The day when the Tour went to Kent, and the boys went to Ghent
Saturday, July 7: Three men in a sweaty, underpowered van following the Tour
Friday, July 6: Ignore all other imitations - this is the original Idiots In A Camper Van Tour blog
Thank you for reading 20 articles this month* Join now for unlimited access
Enjoy your first month for just £1 / $1 / €1
*Read 5 free articles per month without a subscription
Join now for unlimited access
Try first month for just £1 / $1 / €1
Get The Leadout Newsletter
The latest race content, interviews, features, reviews and expert buying guides, direct to your inbox!
Sports journalist Lionel Birnie has written professionally for Sunday Times, Procycling and of course Cycling Weekly. He is also an author, publisher, and co-founder of The Cycling Podcast. His first experience covering the Tour de France came in 1999, and he has presented The Cycling Podcast with Richard Moore and Daniel Friebe since 2013. He founded Peloton Publishing in 2010 and has ghostwritten and published the autobiography of Sean Kelly, as well as a number of other sports icons.