Tour of Utah returns for Taylor Phinney and Peter Stetina after serious injuries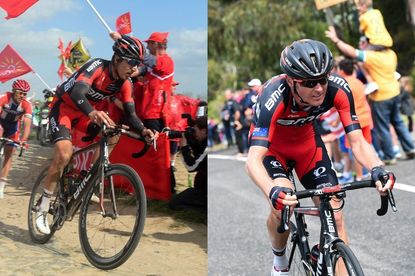 BMC duo Taylor Phinney and Peter Stetina are set for a return to action at the Tour of Utah after months on the sidelines with serious leg injuries.
Phinney has not raced since May 2014 after suffering compound fractures of his tibia and patella and rupturing his patella tendon at the US National Championships.
Stetina, meanwhile, has been out of action since a horrific crash at the end of stage one at the Tour of the Basque Country, where he crashed into metal bollards at the side of the road and also fracturing his patella and tibia.
"All of the doctors who have seen Peter cannot believe his determination," said BMC's Dr Max Testa. "He did not want to miss this opportunity to return to racing in the U.S. The team will not put any pressure on him, either. He will have to take the race one stage at a time and see how he feels."
The Tour of Utah starts on Monday in Logan, running until Sunday. And 62 weeks after his last competition, BMC insist there's no expectations for Phinney at the race.
Dr Testa added: "Taylor has been working very hard to get to where he is now and believes that he is ready to race. The team has no expectations of him.
"He will test his condition to see where his knee is and what kind of condition he has. From this race, he can gauge what the rest of the season may look like."
Check out the inside of the BMC mechanic's truck
Thank you for reading 20 articles this month* Join now for unlimited access
Enjoy your first month for just £1 / $1 / €1
*Read 5 free articles per month without a subscription
Join now for unlimited access
Try first month for just £1 / $1 / €1