Team time trial will be part of Richmond World Championships
Contrary to rumours, the 2015 Team Time Trial World Championships will be held in Richmond, USA, alongside the other events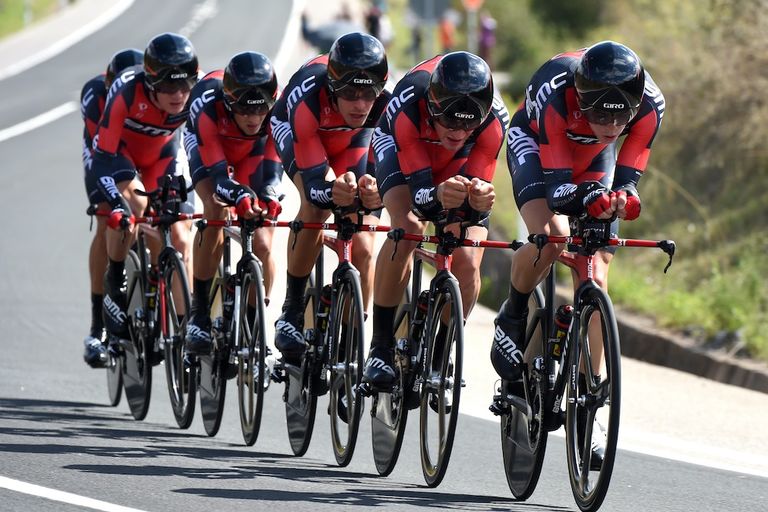 (Image credit: Watson)
The team time trial will continue at the 2015 World Championships in Richmond, Virginia, USA, despite reports that it would be held in Europe to save money.
Cycling's governing body, the UCI, has been in talks with teams in Professional Cycling Council (PCC) meetings regarding the event. It re-introduced the team time trial in 2012 at the Valkenburg Worlds, but unlike other events in the championships, trade teams battle for the title instead of nations.
In Ponferrada, Spain, this September, BMC Racing won the men's and Specialized–lululemon won the women's title. In contrast, Poland helped Michal Kwiatkowski win the road race title. France's Pauline Ferrand-Prévot won the women's race.
The meetings have been centred on whether to switch from trade to national teams and the cost of running the event outside Europe. The next two Worlds fall outside Europe: 2015 in Richmond and 2016 in Doha, Qatar.
On Monday, The Netherlands' De Telegraaf newspaper reported that the UCI is considering hosting the team time trial portion of the Worlds in Europe instead of alongside its other events. It wrote that Limburg, the Netherlands, could host the 2015 title fight as it did in 2012 when the race finished above Valkenburg on the Cauberg climb.
Teams estimated it costs an additional €35,000 (£26,370) to race the event outside Europe, reported De Telegraaf. That money includes flying six time trial bikes, plus spares, wheels and staff.
The team time trial should run alongside the UCI's other events, however. The meetings are part of a planned three-year review of the event. They will look at the costs and the possibility of teams racing in national colours.
Teams agree that the event showcases their title and equipment sponsors, but that they would lose money when most of them have bases in mainland Europe. Sky, for example, has its service headquarters in Belgium.
The costs could become an issue for national federations. Instead of trade teams, the UCI may decide to run the event as it did until 1994, for nations. The switch could see time trial strong nations, like Great Britain and Australia, shine in Richmond on September 20.
BMC Racing's general manager, Jim Ochowicz, voiced his concern for the event's future. He said that travel is a cost of doing business and the event should remain for trade teams.
"These championships have proven to be a great success for the teams and the athletes who have participated in them," he explained. "This event now holds a prestigious place in the realm of the world championships and should be left to continue as it has in the past."
The UCI has not yet commented on when or if it could change the format of the newly re-introduced team time trial.