THE BIG INTERVIEW: JIM REES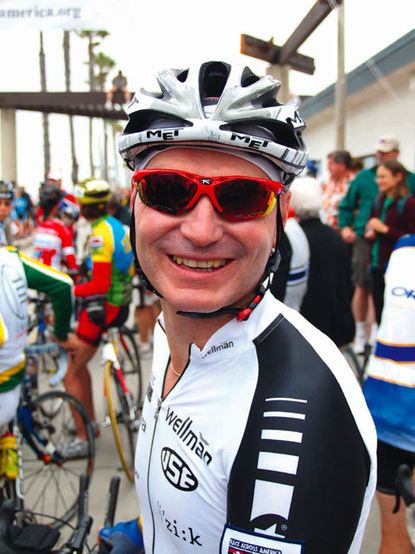 Jim Rees is part of Team Inspiration, an organisation that is dedicated to changing the mindsets of children from ?can?t? into ?can do?. This year he completed the Race Across America (RAAM), the longest running ultra-distance bicycle endurance competition in the world.
The RAAM goes from the west to the east coast of the USA, covering a staggering total of 3,000 miles in searing heat and brutal terrain. To add to the pressure, you?re up against the clock. Rees completed this monstrous jaunt with just six minutes to spare. He talks to CW about the trials and tribulations of what is unquestionably one of the world?s toughest bike races.
Why did you choose to do the individual race, not the team event?
I did the team race in 2005, I was the captain of a four-man Team Inspiration. I wanted to push myself further, as I hadn?t been pushed to my physical limits in the team race.
Why did you do it at all?
I?m a keynote speaker and author ? I inspire people in the corporate world, and teach them how to apply a certain mindset in life that will help them achieve whatever they want to do.
So I wanted to ?walk the talk?, as it were, and do the physical element. It was me saying, ?I?m putting myself through this,? in order to motivate people.
Tell us about Team Inspiration.
It is basically an organisation that teaches everyone to believe that they are built for greatness. I go into schools and speak to kids and encourage them to think that anything is possible, because we are often taught not to aim too high here. With obesity levels reaching frightening levels, it?s important to get kids to think they can get something out of sport, even if it?s not an Olympic gold medal. People use excuses and avoid taking personal responsibility; we need to adopt the competitive mindset of Aussies and aim higher. ?If you think you can or you think you can?t, you?re probably right.?
Did you have funding/sponsorship issues?
All of the crew members donated, but there was still a deficit, which had to be covered by my credit card. But I don?t mind, it was the price I was willing to pay to be an inspiration.
The race is not a stage race ? do you think this made motivation more difficult?
I didn?t go with particular expectations, I just knew I would finish the race. I believed in myself and the crew, I didn?t want to over-analyse the race, and the organisers of the RAAM have checkpoints you have to meet anyway, so they were my approximate goals.
Have you attempted a stage race before?
No. The RAAM seemed like a challenge that was better suited to amateurs.
What kind of training did you do?
Every week I would cycle all day Friday until 5pm then cycle through the night, sleep two to three hours and go again all day Saturday. I also trained all of winter on a bike, to improve my mental toughness. I guess I did around 800 or 900 miles a week.
What were the high points of the race?
I?m still unravelling it all to be honest, but I guess Wolf Creek Pass was one of them. I climbed 11,000 feet in the middle of the night, it was freezing cold, I was suffering massively from sleep deprivation, and the crew were pushing me on. They coerced me for eight miles of climbing. I don?t remember much of it, but when I reached the top after nearly cycling over the edge, the crew started crying and all hugged me. It was moving. I?d also have to say the Appalachian Mountains as once I?d done them I felt like I?d broken the race?s back. The scenery was also remarkable ? and finishing in time too!
The low points?
I suffered from massive heat exhaustion on day one, which ended up setting me back four hours. The heat was harsh and I didn?t replenish my salt levels enough. It was pretty awful. Also the headwinds of about 30-40mph in Kansas, they really did my neck in. Luckily, the crew were inventive and created a neck brace for me.
On the website it says: ?The drive and determination that has propelled this great nation to being the world superpower.? Was there any evidence of this mentality?
Yeah, that is important in this race. The USA has had the determination, guts and spirit to become great.
What were motorists? attitudes to you out there?
At some points it was dreadful, in Missouri for example (which they dub ?misery?). It was extremely dangerous; they all take major risks and drive around in those huge Cherokee jeeps. The RAAM definitely has some safety issues to work on.
Rees, with makeshift neck brace, makes his way to the east coast of America
Where did you sleep?
On the floor in the back of the following vehicle and a couple of sleeps in the RV. On average I slept one and a half hours per day throughout the race. I thought I would have had more, but different elements conspired to make it more difficult than I had anticipated.
Of the three evils, hunger, sleep deprivation, and terrain, which was the biggest obstacle to overcome?
Definitely lack of sleep. I ended up having hallucinations. My body was in agony and I kept thinking I saw members of the crew in front of me telling me to turn around. It was my body?s way of saying, ?This is too much,? I think. I also saw faces in the potholes, I can remember thinking: ?Wow, these guys are really talented road layers out here!? Ha ha. I had hoped I would still be me, but lack of sleep made me lose it a few times.
What sort of weather did you get? And did it make much of a difference to your ride?
Mainly just searing heat, a kind of heat that we don?t get in the UK, and it made a big difference. I made rookie errors. Then there were the headwinds in Kansas, but I felt strong there so it wasn?t too bad.
How crucial was your support vehicle?
Critical. If it wasn?t for them I wouldn?t be here now. There were a few near-death moments, where sleep deprivation took its toll and I almost veered over road barriers or into oncoming traffic. They were always there encouraging me, and had a remarkable mindset. They were close friends of mine before, so I think this made a huge difference.
What part of your body hurt the most?
My fingers. They?re actually still numb from the vibrations, even though I wore gloves with gel. I wore Reskin Bioracer patches on my sit bones and they literally saved my arse!
You?re doing it again next year. What do you hope to do differently?
I want to do it solo again, as I want to break the British record this time. I reckon there?s 36 hours to be saved by cutting down stops to only get off the bike for the toilet and sleep. I?ll also learn from the salt supplements and will be armed with the knowledge of the effects of heat.
EXTERNAL LINKS
Thank you for reading 20 articles this month* Join now for unlimited access
Enjoy your first month for just £1 / $1 / €1
*Read 5 free articles per month without a subscription
Join now for unlimited access
Try first month for just £1 / $1 / €1