THE BIG INTERVIEW: MIKE SINYARD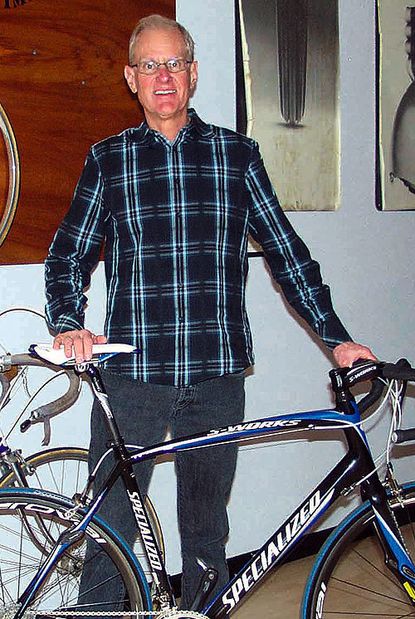 Mike Sinyard started Specialized in 1974, when he sold his beloved VW Campervan and set off across Europe on his bike.
Now the Californian-based company is one of the biggest bike manufacturers both on and off road. Cycling Weekly caught up with him at the company?s HQ in Morgan Hill.
How did it all start for you?
The big plan was to cycle to Europe and the Oktoberfest and take it from there. Then I met a guy in Holland and worked in a bike shop a little bit, and then I rode my bike from Amsterdam, to Barcelona and then over to Milan. Doing that was just awesome.
In a youth hostel in Italy I met a woman who knew some of the big manufacturers like Cinelli. I bought a suit so I wouldn?t look like a bum, and I bought my first product there. Then I didn?t have any more money so I came home.
What did you do then?
I went to a few of the bike shops I knew and said: ?Hey I?ve got this really cool Cinelli stuff,? and sold it to them. I always wondered why all the really cool stuff from Europe wasn?t coming over here. I know my friends wanted the stuff, so did I.
I thought: ?What am I going to do now?? I tried to get a loan from the bank but they wouldn?t give it to me. So then I just went to the bike shops and told them I could get this really cool stuff but they?d have to pay me in advance. So that?s how the company started.
Did you make a profit with that first trip?
Not much! I think I turned that $2,000 into $2,300. But I learned a lot, and it was a great opportunity. I lived in a trailer and I had two room-mates in there, so my overheads were really low. I stored the bars and stems and stuff under the trailer so it wouldn?t get wet when it rained. But if I had a lot of kit I couldn?t go anywhere because someone could easily steal it.
Is it Specialized?s ethos to dominate the market?
I see Specialized like we?re another big bike shop. We don?t think of ourselves as just a big company. We?re a lot of small companies within the company. For example, the division that makes shoes have about four or five people working on shoes and saddles, and the same for people working on the suspension bikes.
By having specialist people we can make really good products. It?s not about how big you are. If you go to a restaurant, you don?t want the biggest, you just want the best. So that?s our vision. We have a very clear vision to be the best cycling brand in the world.
Are you involved with pro teams because of a love for cycling, testing, or for advertising and marketing?
I think it stems from an R&D standpoint, but sure, is there a point of visibility out there? And for people in this company, and for me personally, there?s a big excitement to see riders racing our kit. That really gets us going. But it?s also a big responsibility.
Are you looking to sign up more teams?
I think we have a great mix right now of teams with helmets, of teams with the glasses and shoes. The shoes is a lot. People think about the helmets but they don?t think about the shoes. But the shoes? It?s big, if you really start to look how many ride them. And a lot of the riders actually want our shoes. The word has spread in the peloton that the shoes are really light and they work well, and they feel good too.
How much money do you spend with the teams?
It?s a big piece of the budget, it?s a lot. I really can?t put a figure on it, but the biggest part is all the work that goes with that. All the work and pressure to make those things is huge.
Could you get where you want to be without the teams?
No.
OK, could you get anywhere near it?
No, and I don?t just think of the road teams, I think of the very first products that we made, we worked with athletes from the very beginning. That?s part of our DNA to how we develop products.
The first athletes we worked with were people that I knew, and the Berkeley Bike Club. Bob Roll was on the first team. He was on the Berkeley Bike Club and he graduated out to be one of the hot riders. The first pro bike Greg LeMond ever had was a bike I had made for him at Cinelli. In fact I saw Greg yesterday. He said he still had that bike in his room. We?ve always been about that, it?s just part of the process.
Does working with pro teams mean you spend more on the road side of the business than the mountain bike side?
I don?t know the exact split, but it?s big. It?s not more than half, but it?s a big percentage of our business and it?s been a big growth area with the Tarmac and the Roubaix. I?ve always liked the road. On the weekend I?ll set my bike up and go out and only come back seven hours later.
Is it worth the money?
Yeah, because we learn new things about carbon and how we make things to continually evolve. We learn a lot of things and the riders are very tough on us and that?s good. It?s like our good bike shops, they?re very critical about how we do everything. There?s more on the road, because it?s more complex, but historically we?ve probably spent more time on the mountain bikes.
Did you have to make lots of changes?
Yeah! But we learnt a lot because whatever bike we made for the rider, ended up as the production bike that people could then buy.
So for the Quick Step riders, we take a bike right out of the warehouse. That?s the great
thing for the customer.
It?s a philosophy I?ve always had. In the old days the big companies would make a special bike for the riders and then they would sell normal stock to everybody else.
Did the allegations against Quick Step earlier this year cause you concern, seeing as you?d just signed with them?
There?s always those things, allegations, somebody saying something about somebody else. But I?m proud of how cycling does such heavy testing, more than any other sport in the world.
I always ask what?s going on with the people we work with. How often does a soccer team pull out their best player right before a game because they tested him? They just don?t do it. Cycling does, so you have to say, that?s pretty severe. I think it?s all about people going out and having a good time. How do we get more people on bikes, how do we get young people on bikes?
Specialized HQ in Morgan Hill, California.
Who?s the best rider you?ve worked with?
Mario Cipollini was so good. He was so tough on us. He was very strict about how everything had to be a certain way, and what it should be and shouldn?t be.
Are you rivals with Trek?
I think they?re great competition. That?s a good thing because it makes everyone do better work, and our people have a huge passion and drive about really doing a good job. That?s what drives us. I totally respect it, I mean Lance Armstrong is the most famous story, that will never happen again and I think that?s good for everybody. We need more stars. More Cipollinis, more Boonens, more Bettinis. These people make the sport fun.
Do you try to only employ cyclists?
I think they have to be a cyclist, otherwise you don?t understand it and also, what would be the drive for people to work all weekend? In my experience it doesn?t work. Everybody here is into cycling. Even the people in the finance group eventually get into it.
Would you describe yourself as a bike geek?
Oh yeah. But that can be practical, if I?m out riding and I see other cyclists I?ll stop and ask them questions, and I learn a lot from that. When I wake up in the morning, especially if there?s something new, I still get excited.
Thank you for reading 20 articles this month* Join now for unlimited access
Enjoy your first month for just £1 / $1 / €1
*Read 5 free articles per month without a subscription
Join now for unlimited access
Try first month for just £1 / $1 / €1